Friday, June 3, 2011
Friday Thoughts and Links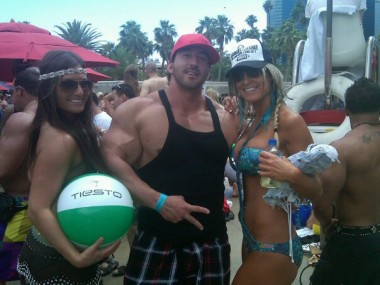 Lest there was any doubt about our HCwDB of the Month winner containing the necessary adouchremonts, our week concludes with Peter Pumpin'Head.
Having ditched Mary Mammageddon, Peter demonstrates douchery in two classic ways:
1. Busting the classic sideways peace sign ('bag hand gesture #61) in presence of Pocahontas beach hotties.
2. The douche-nipple-poke from behind a tighty blacky muscle shirt.
The prosecution rests your honor.
It's good to be back.
Here's your links:
Your HCwDB DVD Pick of the Week: "Yes we do. But this happens to be a one hundred dollar minimum table. Perhaps you'd be more comfortable at one of our lower stakes tables."
Shark Eats Shark. Stonerbags watch excitedly.
If you've got some time this weekend, watch Sex Pistols creator/manager Malcolm McLaren gives an epic rant on what he calls "Karaoke Culture" at TED. "Life that's lived by proxy." This is pure genius, well worth your time.
If you've never thought about the country of Latvia in your life, now's a good time to start. And by think, I mean boobies.
I never thought I'd find genius in advertising in a McDonalds Ad, yet here it is.
Grey Goose sales are sandbagging our economy.
This just seems like a huge waste of Ezra's Bar Mitzvah money
Slayer of All things 'Bag and reality show afficianado, HCwDB's own Medusa Oblongata writes in with a douche tag from A&E's Parking Wars. So this show is on TV, while my new show about brain-addled alpacas on the run from the law in El Paso, Texas, ("Alpaca El Paso") languishes in development hell.
But enough about all that. Here it is. Your reward:
Like two mounds of rubber marshmallow slappy spank happy penguin drool gnaw.
Go forth. And drink. Because I'm out of euphemisms for alcoholism.