Friday, June 17, 2011
Friday Thoughts and Links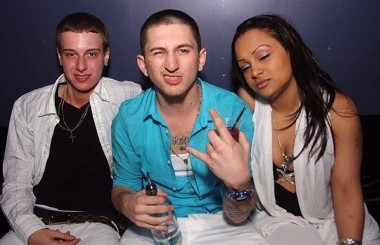 On this Friday 'aft, I ponder those former Eastern Europeans who float through our cultural bloodstream like frothy backwash, hitting on party Latinas and compulsively fondling their iPhones like an arthritic yeti, and it strikes me.
The douchey hand gesture, a fully destabilized semiotic construction meant to mark cultural alterity outside the realm of the linguistic or corporeal, actually does the opposite.
It marks itself as smelly poo flush.
And lo, the Rooster flies into the sunset as Yuri hits his dad Boris up to borrow the BMW 525 to go to the "totally mad party, yo."
And Boris reconsiders whether life under Soviet oppression really was that bad.
Sure they didn't have food or electricity on a regular basis. But they didn't have Grey Goose neither.
Here's your links:
Your HCwDB CD Pick of the Week: "Be brave persevere through it all. I and I get sickled on sacred love. I and I get tickled. Sacred love."
Mark your calendars: International Douchebag Awareness Day is December 12th
The Jersey Shore's "The Situation" is now selling a douche-abs shirt so choady it rivals the unholy cultural shame that was Mooby Dick.
Your humble narrator's Twitter was quoted in the L.A. Times story about yesterday's Weiner roast. I'm honored.
The great Werner Herzog reads "Go the F@#k to the Sleep" to the kiddies.
A reality show in England captures documentary footage of teenage London 'baglings in action.
If you're bored this weekend, why not watch Pulp Fiction in a little over three minutes?
Hot Chicks with Robby the Robot
Stanley Kubrick's Chicago. 1949. Beautiful.
Frolic + Dance = France. Somehow douche dance passes through a culture of mimes and cheese and emerges the other side as some cirque du soleil performance art that's really freakin' impressive. Not sure how that happened.
But you are not here to watch strange French dance steps. You're here for pair:
Crazy Eyes Crazy Chick Self Portrait Pear
Crazes eyes crazy chicks always spice up a Friday night. Go out and partake of all that our shmorgasboard of a consumer culture offers.