Monday, June 27, 2011
HCwDB of the Week: Manos:The Pecs of Fate and Sultry Brunette Back Arch Marsha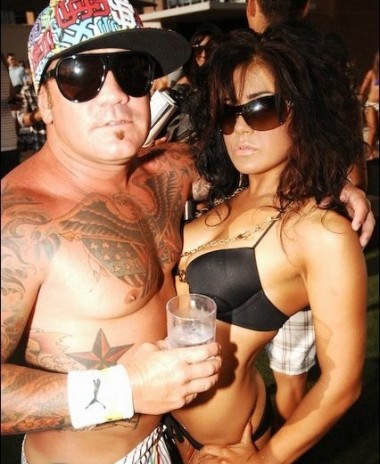 Between this garish trainwreck of smelly diaper poo, and the subsequent #2 of this flip-book crisis of a film dynasty, Manos,The Pecs of Fate II: Ass Pear Reveal Thigh Grab, we have a winner (loser).
Manos offers Pecs O' Douche.
And Sultry Brunette Back Arch Marsha is all sorts of squeeze play dirty.
This wasn't an easy win (loss), as last week saw solid competition. There was Real World Rockerdouche hitting on Girlfriend Kaitlyn, the moley moley moley of Gretchen's Mole, the high school ludicrousness and tasty barely legal real world hott of The Promtard and Kelly, there was Vegas Jake's Chin Pubes, there was Crotch Skull, and there was Pear.
Dearest Elijah, such luscious Pear.
But no combo had the toxic wrongness like The Manos.
A quality uberdouchey coupling for our next HCwDB of the Month.
And your narrator sips his coffee and gears up for a busy week as we head into the July 4th Holiday.
Thanks to all for their submissions that keep this site going, some great stuff just came into the ole in-box. And if you wanna send along your hottie/douchey tags, just use the big "Submit" button at the top of this page, or send along to douchebag1 at the URL for this site.
Cuz thass what I do, folks.