Monday, June 20, 2011
HCwDB of the Week: The Roastbeefer and the Nikita Twins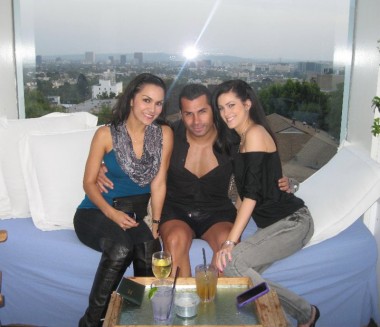 Maybe because we haven't featured a truly odious hottie/douchey combo from my current hometown of Los Angeles in awhile.
Or maybe it's just my disgust at beefy crotch peen with too much inheritance money put on display at an overpriced club. For what is douche if not that?
So here's our winner/loser. For it is time we (dis)honor the shiny crotch peen of absurdist hotel club bottle service ordering beefydouche, and the tasty L.A. hotts that said bottle service attracts. Like the Nikita Twins.
And while Little Caesar and the Asian Paid to Post Inflat-a-Hotts put up a valiant fight, shiny crotch peen cannot be ignored.
Even if one of the Nikita Twins is slightly more hot than her larger, amazonian sister. They are quality immigrant suckle thigh. And deserve notice.
And by notice, I mean hand wringing a moist towelette over a gecko in a dry desert climate.
Last week had some quality candidates, including Bob's Hand Palsy, the tasty drinkable milkshake that was Layla in Long Island Brad and Layla, the classic shoescrote of The Miami Heatrash, and the slutty wrongness of Giggle Hannah and the emo eyeliner of Arnie the Hipster Load.
But there can be only one Weekly Winner, and this week's is Roastbeef.
See you in the Monthly, overpriced sandwich.