Tuesday, June 7, 2011
Honorary Douchebag of the Month: The Weinerbag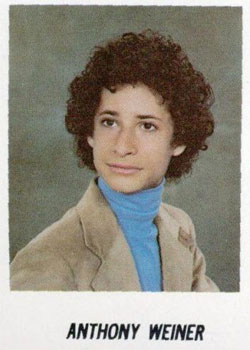 Ya know, I would almost be forgiving of the Congressman's online genitalia pics simply for busting the best Jewfro I've seen since my best friend Benji's Bar Mitzvah in 1987.
But we gotta have standards around here. And The Weiner Story is well deserving.
Sending pictures of his python to ladies online is autobag.
I have no idea in what world men think women want to see pictures of their package. Most girls respond with a resigned sigh and a bored, vacant look. I mean, so I've been told.
Here's your Douchebag of the Month award, Weiner. Now if you're smart, you'll get a job promoting Viagra like Dole did.