Tuesday, June 14, 2011
Where's Waldouche?: Hott Soup Edition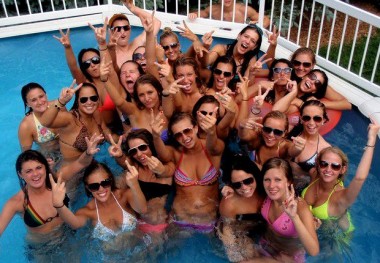 Sam writes in:
—–
Twenty-two college freshman hotts accompanied by one bag-a-tron in upper-left. He goes to my university. His grades are terrible. His grandfather invented the magnetic strips that go on credit cards.
Thus this doucher is far from run-of-the-mill sun-glass in the pool douche and in fact, is descendent of douche royalty. One can only guess what hand sign he's raising, middle finger, peace sign, hang ten, redundant point?
But enough worrying about him and back to the twenty-two fine ladies.
—–
I would rub only the finest of imported Grecian mint jellies upon each of their bellies whilst humming the theme to Night Court in an off-key baritone. Then I would repose quietly to the barn with only a candlestick and a book of poems by Emo Phillips to comfort me through the night.