Wednesday, July 20, 2011
Ask DB1: Are Sleeve Tatts Autobag?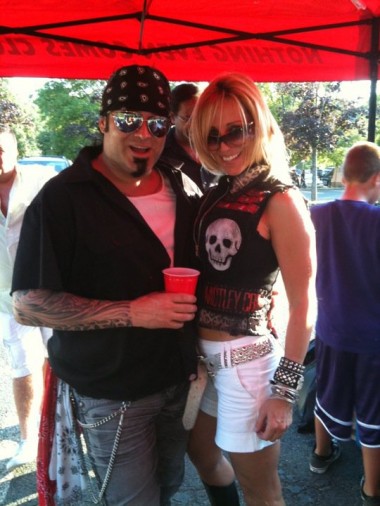 Reader American Bagger objects to the generalization:
————
Dear Sir,
i've written in before and i will undoubtedly start this letter the same way i did my last. that is by saying first and foremost – bravo, sir. bravo. you continue to constantly mock the douche and worship the hotties to the utmost of any of our abilities to do so and for that i do applaud you.
but i'm writing in reference to the picture 'smug night'. while no doubt a douchebag, i think you totally missed the boat on why he is such a specimen.
while you list "stupid tatt sleeves" and the "hitler chin fung" as his douchal attributes, i can't help but stare at the bendless brim of his 'serpentine' hat and his terrible blue blocker sunglasses.
while i'm not disagreeing with you on the fact that he is a douche to the utmost, i am disagreeing with you on as to why.
no doubt the chin fung is terrible, but this is where my bone is gonna be picked in the form of a question. why to you are all tattoos auto-douche? you even posted my letter last time and told me yourself that all tattoos are not autodouche. so why is smug's tattoo such an exception to your own rule?
people like myself with one sleeve and one on the way and not a douchebag in any way, shape or form whatsoever kind of take offense to "stupid tatt sleeves" comment.
if you yourself said that all tattoos are not autodouche, please just remember that next time. and you know you've seen way many more douchey tattoos than that. his is just a nice japanese 3/4 sleeve. no stars, no stupid sayings or script writing like his douchey hat.
so please, pretty please, lay off the tattoos. some are actually pretty cool.
thanks and i will continue to be a loyal reader either way. and you know this, man.
American Bagger
——
Fair enough, but I have two words regarding the Sleeve Tatt's fight for legitimacy: John and Mayerbag.
Now I'm not saying sleeve tats can't walk the stereotype back. But when the Mayerbag is championing the ways of the sleeve tatt, the result is problematic. That being said, douchetattery is found in the obnoxious display of tatts, not inherently in the tatts themselves.
Unless said tatts involve Chinese or Mayan symbols. They be = autodouche.