Wednesday, July 6, 2011
Ask DB1: Ed Hardy Quandry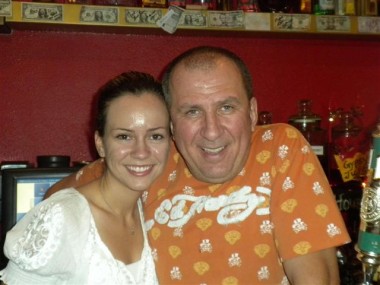 —–
Oh wise one, we beseech thee with a question for the oracle of douchebaggery.
Can an Ed Hardy shirt, worn without irony, by a decidedly non-douchebag fellow, ever be acceptable attire? I ask this because the fellow pictured is a great guy, a good chef, and the father of the gal in the picture.
Together they run one of Las Vegas' best off-Strip restaurants — serving kick-ass Bulgarian, Czech, Russian and Spanish(!?) food — to certain louche-lounge-lizard types, who may look like Eastern Promises extras but are genuinely nice blokes who appreciate the hand-tooled food of their homelands.
But the Ed Hardy shirt does give one pause.
What say you DB1?
– Choad The Douche Sprocket
———
Hardywear = autodouche.
I don't care if Mother Theresa and Jonas Salk had a kid who just cured jock itch using only chocolate HoHos massage techniques and a large vibrating eggg. If that child wears Ed Hardy, he must not pass.
There are no exceptions.
Well, maybe homeless children in Africa receiving rejected merchandise from America, who need to clothe themselves. M'Buke gets a nottadouche for wearing unsold 2006 Von Dutch shirts while scouring the garbage pile for aluminum foil. Other than that, autodouche.