Wednesday, July 13, 2011
Ask DB1: Is Jessica Dating A Douche? (Answer: Yes)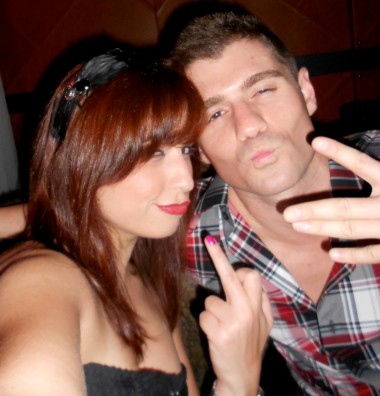 Jessica writes in with a lol question about her new boyfriend (pictured here):
——
Hey!
Well, I have been seeing this guy for awhile now and he has this need to constantly put up "westside" signs up in every single picture.
He says he does this because he is a "gangster" lol . I am always picking on him calling him a wannabe eminem lol. I'd like to point out the so called "gangster" drives a 2011 Audi and lives in one of those most prestigious neighborhoods in Miami, FL. lol
I would LOVE if you posted this picture on your blog, i would love nothing more then to embarass him on your blog , it would make my day and hopefully he will stop putting up westside signs in pictures.lol
the picture I am submitting is one we took last week, i decided to play along with the gangster-ness lol….THANK YOU! =)
— jessica
——–
Confucius Say: Those who date those that drive Audi in "Prestigious Neighborhood" should not cast first lol-stone.