Tuesday, July 12, 2011
Ask DB1: Southern Orangeness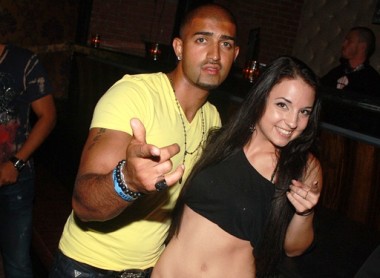 —————
DB1,
I'm a loyal reader but infrequent contributor as I find that writing something witty about the specimens on this site is difficult given the abundance of creativity on the part of the site's contributors who can be described as at times nothing less than poetic.
Onto my issue; I recently moved to Florida and today got my new driver's license. My face is something like Sangria burnt sierra orange.
Now I do like to at times lie outside and smoke cigars, read and look longingly at the Ass Pear that goes by. I'm Italian also so I happen to tan pretty well. Yet I would not describe myself as an obsessive tanner and I don't work outdoors either.
I would like to argue that my pigmentation is merely a result of environmental factors since my old license photo from up north is decidedly more white than orange. Therefore, is one a douche merely because one's place of domicile is so exposed to the sun's rays?
I believe that this is a pressing issue in the field of douche studies, as if the aforementioned question is answered affirmatively then most white people in Florida could qualify as douches even if no other signifiers exist per se.
Regards,
Choade Harold's Pilgrimage
——-
The Italian propensity to Orange can be forgiven within a safe palette range of hue. This scale is generally marked, as Reader Mike demonstrated with 2008's Crimson Ted-o-Meter , between "ruddy" and "amaranth."
There is some geographical leeway when it comes to natural orange hue, C.H.P. However, be careful. For one wrong step, and you'll end up looking like this.