Saturday, July 9, 2011
Comment of the Week: Count DeDouchebags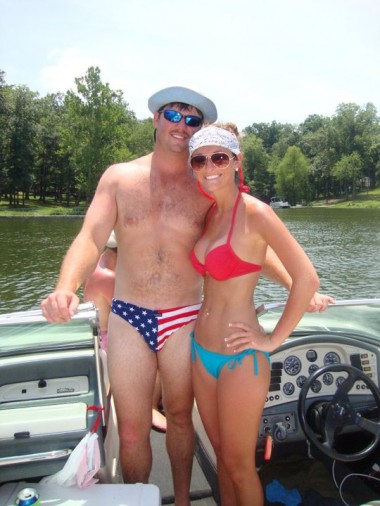 Newbie Count DeDouchebags wins the coveted Comment of the Week with his brief yet on-point narration of the story of Crotch Johnson and the Sara Bikini Hotties:
—–
Noon: Oh, yeah!!! Vegas baby!! VIP at the pool!!
1:00 pm: I'm Crotch Johnson, from Omaha, Muthafukas!! Look at these bitches!! Woo Hoo!!! Bring me another bottle!!
2:00 pm: Crystal… HELL YEAH!! I love Crystal!! another bottle, dammit!!
3:00 pm: WADDAYAMEAN it gonna be $500 each? I thought you chicks were really into me!!!?
4:00 PM: …Yes, sir, $4500… If you don't pay your bill, I'm going to have to call the police immediately…
5:00 pm: Dude…. come on man… bail my ass out!!!
—–
Sort of says it all.
Oh, and here's a random picture of Patriotic Speedo Crotch Guy and Unfortunate Victim of Limited Life Opportunities By Virtue of Being Born in a Small Town Hottie for your Saturday perusal.