Friday, July 1, 2011
Friday Thoughts and Links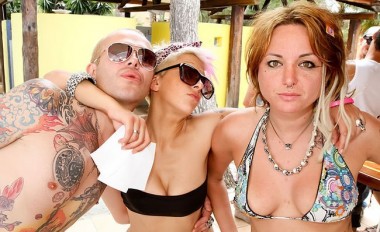 Your humble narrator finds himself wandering homeward. Backward through space and time. Back to the land of Stanley Cup champeens and really stupid accents.
Yup. My ass is in Boston.
Home of Mama DB1. And July 4th Weekend. So while I plan for a weekend of New Hampshirian relaxation, here's your links:
Your HCwDB DVD Pick of the Week: "Meteor shit!"
Odious and pathetic rodeo clown and jizzmaster of HCwDB wannabe "The Dirty," the uberdouchey "Nik Ritchie" is peddling a hilarious book proposal. "Nik Ritchie is this decade's Lenny Bruce" for the ballpunch. Ritchie's wannabe celebrity crash-and-burn arc is as enjoyable as it is long overdue. Up next: Weblebrity Rehab.
This is not a workout. It's a homoerotic revolution.
HCwDB legend Joey Porsche makes it into Cracked Magazine's 7 Things Good Parents Do That Screw Kids Up for Life.
Quentin Tarantino likes to suck ladies' feet while playing with himself. But you already knew that.
A Los Angeles scenester goes to Vegas and discovers A place of supposed anti-douche. A retro arcade club called "Insert Coins".
The generational passing of the Grieco virus: From Mohrbag to Bieber.
The pathetic last days of Stackhouse the Poet: Stackhouse The Poet in "Wikipedia is a Fraud." It's just getting sad.
But you are not here to watch Stackhouse descend into parody, sullen moodiness and rapid aging, you are here for Pear:
First up, a little Accidental Helicopter Pear.
And if that's not enough for your July 4th BBQ Weekend, hows about some Corona Pear.
Like two paid-to-pose loafs of Challah bread wrestling over the check.
Enjoy. For the Weekend is Uponst.