Friday, July 15, 2011
Friday Thoughts and Links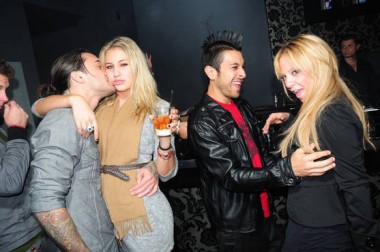 As greasy refried beanbags soft serve the hotties a dollop of stupid talk, and the hotties giggle, I contemplate the eternal mating dance on this Friday.
So much has changed in the five years of this site. Yet branding and the media marketplace continue to reconfigure the sex drive as profit in the eternal recasting of douche product as sexual enhancement.
And so I poo on a fig leaf. In a metaphorical sense.
But rice wine and assorted snack cakes comfort me with sugary goodness and primal aplomb.
The sun will rise. The sun will set. And Lou Gorman's ghost will have spectral lunch in the sky.
Here's your links:
Your HCwDB DVD Pick of the Week: "He keeps putting his testicles all over me!"
The great Skweezy Jibbs will live 4-EVA, ZON!
A blog named "Two in the Shirt" gives HCwDB some love.
Emma Stone is hot for Christina Hendricks. Boobs.
Reader Eddie sends in this pic of a Tramp Stamp vending machine. You know. For the kids. In Long Island and parts of Jersey.
Sportsbag of the Year? Brian Wilson of the Giants makes his case.
The hottest woman in the world is currently Rachel Nichols. In case you were wondering.
Star Wars Alpacas. So cute. And yet so powerful with the ways of the Force.
Old Chicks with Assholes. Yet pretty damn hilarious in a just wrong sorta way.
This week in Aussiebaggery: Party at Kyle's House. Oz hasn't seen a plague this bad since Bart brought over the frogs.
Speaking of Australian douchebags, enjoy the great Hugh Laurie and Stephen Fry in Rupert Murdoch: It's a Wonderful Life
And then there's legendary crooner Tom Jones. Where orange and douchey is so orange and douchey, even our Rockstar Leniency Rule struggles to make an exception.
And from 70s Tom Jones, we move to something that goes well with beer, wine and other assorted beverages of choice:
It squishes like firm melons on a tilt-o-whirl.
Enjoy. It is Friday. And Adonai commands rest.