Friday, July 22, 2011
Friday Thoughts and Links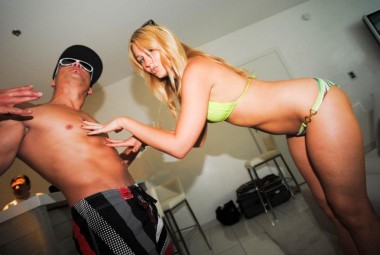 Remember that game you always wanted to play with a girl in 8th grade but never have the courage to actually try on? You know, "Tune in Tokyo"?
Yup.
This is the douchal version of that game.
But it's nice to see Jonathan Silverman and Sarah Jessica Parker found work back in the 80s. And I'm referring to the photo, not the linked clip.
As to our hallowed Hall of Hott, it was a tough crowd and a split vote, with only the lovely Arielle gaining entrance. Sorry ladies. Maybe next time.
Here's your links:
Your HCwDB DVD Pick of the Week: "You know, I could lay a big line on you and we could do a lot of role-playing, but the simple truth is, is that I find you very interesting and I'd really like to make love to you."
Donkey Douche: Still in Jail. Eye Color still "BRO"
Speaking of bros, Bro seeks Bros for Manhood Camping. Possibly to oil up each other pecs and then grind to Right Said Fred. No homo.
And speaking of bros seeking bros, HCwDB legend Cro 'Bagnon needs a date. "Eggs whites, Protein shakes, Jack Daniels" ladies. C'mon now, can you resist?
Russian Girls want to date you, yes?
Yet more from the Rebecca Black school of untalented viral despiration: Some Annoying Chick Raps
Best Cry Ever. Finally, a use for autotune.
Texas Scrotesackery: The Hillbilly Music Video.
Summer's Eve new ad campaign involves talking vagina hands.
Speaking of T.V. ads, let us never forget far and away the greatest ad of the past twenty years: "You tell 'em, Johnny! You tell the world."
Nicholas Cage's son is something something.
Remember Swatches in the 80s? Today's kids' watches are far more scroatier.
Holy Mackeral! It's:
A bit meaty for your Friday, perhaps. But well inspiring as we sail onward until dawn.
EDIT: For those objecting to the real world meaty meat fishing pear, your cries for more Pear have been heard. Enjoy:
It's Gehry by way of Crumb.