Friday, July 29, 2011
Friday Thoughts and Links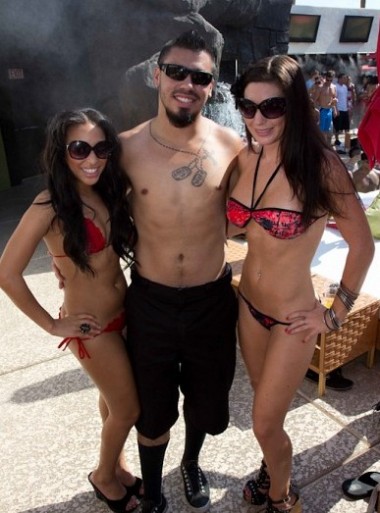 Lookout, fellow 'bag hunters!!
Douchetatts are now mutating and creating hybrid strains of 'bag signifiers, demonstrated here by Antonio's strange Unearned Dog Tags Tatt.
Masquerading under the tropes of military masculinity, the faux warrior with the chin pubes disgraces us all.
The ladies aren't A-List, but what the hell, it's Friday.
Here's your links:
Your HCwDB CD of the Week: "Well, I went home with the waitress, The way I always do. How was I to know? She was with the Russians, too."
Think Unearned Dogtags Tatt is Douchey? How about the Douchiest Tatt in All of Creation.
Speaking of douchey tatts, the actual Ed Hardy is writing a memoir. No word on if large pictures of tigers and thorny roses will be used to signify the angst of Mr. Hardy's childhood.
And speaking of Hardy, reader Chris sends in this 'tag of a disturbing discovery in a suburban mall parking lot.
The latest in one-joke blogs: Animals Being Dicks. One joke blogs are so lam… oh wait.
Pop Pear Quiz: There is a dog driving that car.
Here's a cartoon that depicts the long period of ostracization that Ubiquitous Red Cup has faced from the rest of the chalice class.
Hot Llamas with Michelle Bachmann.
But you are not here for annoying politicians with oh so sexy llamas. You are here for beautifully concentric circle Pear. Enjoy:
Like two large orange slices being dropped into a bathtub.
Crack open a bottle of the Mad Dog. For the Weekend is 'ere.