Tuesday, July 5, 2011
HCwDB of the Month
It may be the post July 4th-ish weekend, but that don't mean the Mock stops. The Monthly is here. And it is important.
So stop that silly "work" thing. Put down all that you do. And get to votin'.
Your finalists:
HCwDB of the Month Finalist #1: Clifford the Big Red 'Bag and Bethany and Brittney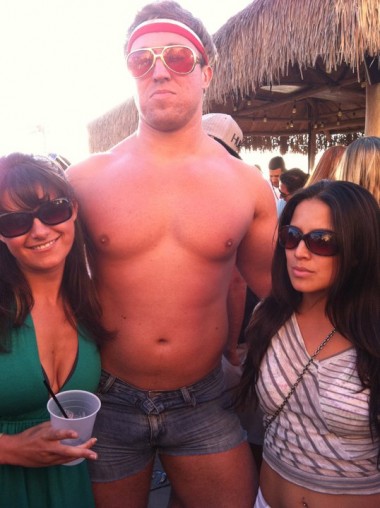 Clifford may at first seem like this unholy crimson coelacanth of douchebaggery. You think, he has to be faking it.
But let it be clear.
The evidence does not show a Halloween party or any sort of costumic dress up on the part of the backround participants in the evening's festivities.
Therefore we can conclude that this is not dressup, and is indeed, douche.
For logic dictates, and by dicktates I mean dicktaters, that no ironic dressup could possibly include shrunken nads inside of tight-ass jean shorts.
Clifford is pure douche essence. And deserved to be mocked accordingly.
Mmmm… tiny Bethany and Brittany.
How your lack of conversational skills is made up by your ability to do shots and "Woo" every time the D.J. plays Katy Perry. And Katy Perry sucks. But I pretend to like it and offer to buy you a Mai Tai.
HCwDB of the Month Finalist #2: Mr. Hawk Doesn't Deserve This and Hottie Heather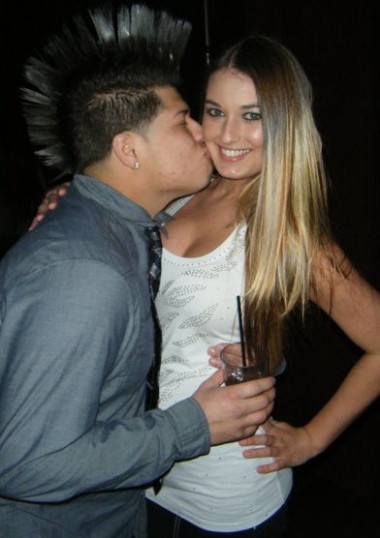 For sheer hotchickery, there may be no competition in this Monthly contest, for Hottie Heather delivers Mayan Eye of Coitus on a number of thematic, structural and esoteric levels.
We also can't diminish the douchal power of the stupid Hawk.
For it is very stupid.
No less so than when combined with some strange ironic suit and tie wearage.
Lame.
Not to mention, Mr. Hawk and Hottie Heather, together, remind us of one of the most offensive HCwDB photos in the history of the site.
For all these factors, they must be considered in the Monthly for sheer toxic amplification that goes beyond the quantification of their 'bag/hott substrata.
But enough to win the hallowed HCwDB of the Month? There's two more finalists to go:
HCwDB of the Month Finalist #3: The Roastbeefer and the Nikita Twins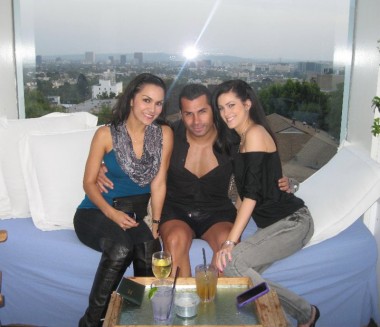 For pure overpriced bottle poppin' noxious classic douchebaggery, is there anything more culturally destructive than shiny penis pants in presence of paid-to-party hot chicks like the Nikita Twins?
I think not.
And lets not forget a week later, when part two of The Roastbeefer's beefing came our way.
Here's one hoagie covered in the societal molds, spores and fungi's of Egon's hobby collection.
HCwDB of the Month Finalist #4: Manos: The Pecs of Fate and Back Arch Marsha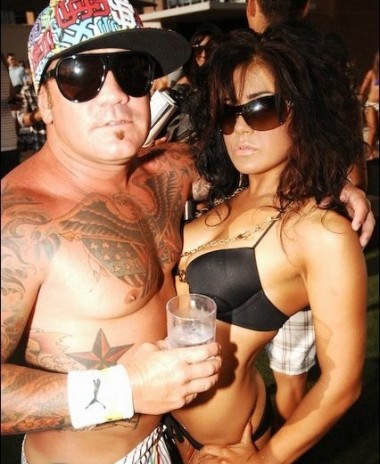 Vegas spectacle rounds out our quite potent HCwDB of the Month, as Manos: The Pecs of Fate horrifies old ladies and cauterizes poodle nads without antiseptic.
Don't forget the second part of our two-part drive-in extravaganza: Manos,The Pecs of Fate II: Ass Pear Reveal Thigh Grab.
Back Arch Marsh has all sorts of douchadox slutsappeal, and cannot be dismissed as potent H.C., regardless of trashiness.
But can they win the Weekly?
I honestly have no idea who's going to win and earn a spot in our hallowed HCwDB of the Year in December.
So I need your vote. Which of these four couplings most (dis)embodies the spirit of Hottie/Douchey dialectics?
Vote, as always, in the comments thread.