Thursday, July 7, 2011
HCwDB of the Month: Clifford the Big Red 'Bag and Bethany and Brittany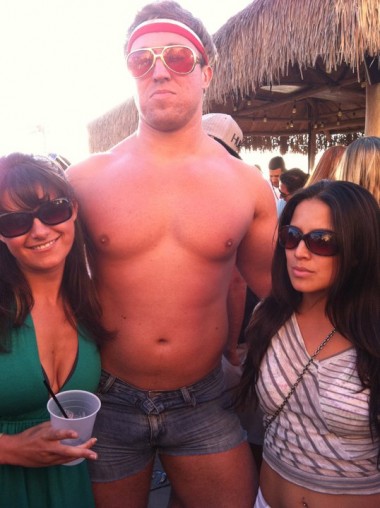 In one of the closest Monthlies in awhile, what was essentially a four way tie of hottie/douchey meritocracy was finally broken by considering both primary secondary votes.
So your brain addled narrator tallied the votes. And after an early surge by Mr. Hawk and Hottie Heather, and a late push by both Manos: The Pecs of Fate as well as the wrongness of The Roastbeefer and Nikita Twins, Clifford's shrunken nads and real world cuteness of Bethany and Brittany ultimately triumphed (failed).
The voters speak:
Horace Dangleballs: Sweatband? Douche. Red goggles and you're not preserving your night vision like a WW 2 submariner? Douche. 26 inch cutoff jean shorts on a 34 inch waist? Douche. (But, as someone said in the original post, his lowered sperm count IS a benefit to society.)
Hermit: Clifford's chin is horribly scarred from playing bobbing for sea urchins in a vat of hydrochloric acid, but it's nothing that some Bondo and a neckbeard couldn't hide.
Douchewallnuts: Clifford the Big Red Bag FTW. Channeling Will Ferrell while being a douchebag is an incredible achievement and must be rewarded.
idfma: I gotta go with Clifford. I have never seen someone look like an arrogant dickhead and completely befuddled all at the same time. Those rose colored shades make his eyes look swollen shut, and he either looks like he's about to barf or say something really stupid.
ehcuodouche: Heather is the hottest, to be sure, but Clifford has two relatively normal-looking attractive women sheltering under his redmess [sic] who are not bazooka barfing. You can't explain that. Clifford FTW.
Et Tu Douche?: Clifford the Big Red 'Bag and Bethany and Brittney, FTW.
percy douchetonsils: Do the shorts make the man red, or does the red man make the shorts? I'm not sure, and quite honestly, I find my lack of certainty comforting. Between the Ballston Stranglers, the Knopfler circa "Money for Nothing" headband and that smug-pugly smirk that makes Bradley Cooper seem humble, I gotta go with Elway, for the win!
tall guy: a fouler, more putrid sight I have not seen in a long time. School boy tighty shorties? In acid wash fabric no less? And if that is a gun in his pocket, it resembles an Austrian 2mm pinfire miniature… So it's Clifford the Big Red Bag FTW.
Troy Tempest: I vote for Clifford because Hawk doesn't rate, Manos pulls bleeth, not hotts, and roastbeefer has been reduced to radioactive confetti.
Well said people, and what's interesting is other pics featured both purer hott chicks and douchier douches, but together, it was Clifford and Bethany and Brittany that produced the toxic tandem to win (lose). In a tight jorts second, we found the surprisingly strong essence of douchery in the visage of Mr. Hawk mugging Hottie Heather:
Fatness: Mr. Hawk Doesn't Deserve This and Hottie Heather. He's moving in and she is politely smiling for the photo and not leaning away. Either she just won a bet or she actually likes this hawk-tard. Winner (and we all lose).
MrEvilBreakfast: This is a tough call… but hawk FTW. It's just that's incredibly doucheristic. Clifford's high up there, but he just reeks so heavily of retard. But that mohawk is just so deliberate…
Vin Douchal: Heather has some Silky Milky's and I'm hoping she immediately went back to her paralegal studies after this photo was taken. And by paralegal studies I mean stripping her way through cosmetology school.
But Manos: The Pecs of Fate and the 'Beefer were also on the cusp of winning (losing), and both found righteous support:
Grand Douchemeister: I gotta go with Manos. The question which scientists have attempted to answer for decades has been which spawned which. Did the movie spawn the douche or did the douche paradoxically travel back in time and spawn the movie which spawned his name which and so forth until we all yearn for the sweet taste of oblivion.
Indiana Choad and the Temple of Douche: Gotta go with the Roastbeefer, for actually wearing more feminine clothing than his hotts are sporting. Quite possably the gayest thing I've seen in quite some time. It's only a matter of time before he starts begging for my "jelly" and "Mirin", and to "come on me, bro".
FoghornLeghorn: Manos and Marsha for the win. Clifford looks like the biggest bag and Heather makes me drool, but their dates bring them down. If Clifford and his shorts could get together with Heather, or even the Nikita twins, that would be a winner. But that won't happen in his lifetime.
joey-joe-joe: the clear pick for the monthly is manos, seen here selecting the most manly of pole-polishers in an attempt to make himself appear somehow relevant by applying the classic head-fake of "is it he or is it she" distraction. that straight-billed slightly-off-center cap with stupid sunglasses and pubic-triangle-chin crapsmear make me wanna gargle with port-a-pot waste and spit in his drink (if only it wouldn't be such a waste of perfectly good digestive enzymes). yes, mano and his pecs FTM.
Choad the Douche Sprocket: Manos, like Nowitzki powering his trademark jumper, barrels into the lane sporting tatts, soul patch, hat tilt, wristband (Puma no less!), stupid sunglasses, even stupider stare, and a pulchritudinous hot pressing her arch-backed fun bags into his pits
I R A Darth Aggie: Manos and Back Arch Marsha FTW. And by "win" I mean "I want a kitten to punch me in the nuts" because I'm horrified that I'd like to dork Marsha in her squeakhole.
'Daggerbagger: Roastbeefer FTM. Its his poised, coy smile combined with an exact 14degree eastwards face-tilt that requires oh so many hours of mirror practice to perfect that sells it for me. This is a sign of learned douchebaggery. It is this, plus gay V-neck shirts eminiscent of 'NON' from superman in the presence of babes that make me want to destroy myself.
Excellent parsings by all in the comments thread. But this was Clifford's week to take it to the Yearly. Lets let Whoop-di-douche take us home:
Clifford the Big Red Dawggiebag gets my goat, er, vote with that caricature of a comicbook body and those teeny tighty jeanshorts. It's a total irony that he has no tatts I can see, but then, his starin' 'tude is more visceral than his obvious viscera. Please, someone slip that headband onto his neck, attach a leash, and lead him far, far away, before he takes a dump on us all, because those two pooper-scoopers with him are not up to the task of cleanin' up after him.
Methinks all four of these toxic couplings should receive some form of recognition at the 2011 Douchie Awards. But only one can advance to the Finals. And that one has a really low sperm count and real world tiny hotts by his inflated sides.
Clifford and Bethany and Brittany for the Yearly. And your narrator for a bagel.