Wednesday, August 24, 2011
Ask DB1: Pumping Orange?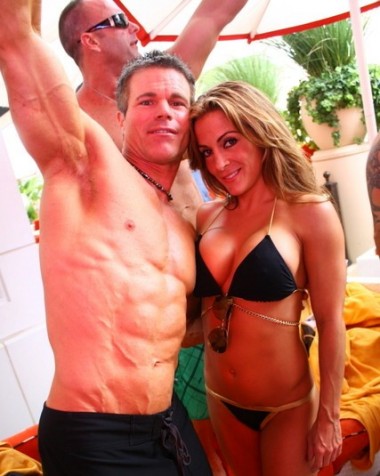 —–
Hey db1,
I have a question regarding the performative leniency rule.
I've noticed an influx of pumped up, greased up bodybuilders making their way onto the site.
While indeed 'roided and oranged out to the point of oblivion, do they not get leniency for what their "profession" demands? That is, sure they look like fools, but no more so than your average pro wrestler. All that orange, grease, make-up, and ridiculous clothing has got to be some part performance, right?
So while the obvious doucheosity is strong in these guys (and girls), how come performative leniency doesn't apply here?
Cheers,
Douche of Arabia
———
Excellent question, D of A. The Performative Leniency Rule, as it's currently interpreted by the Ancient Mystics of Uttar Pradesh, relates to an element of theatricality understood in the construction of the douchal persona as it relates to character work and fictive settings.
For example: Wrestling. The W.W.E. is scripted melodrama, albeit within culturally acceptable crypto-gay undertones. The W.W.E requires characters to perform as "douchebags," so to call them douchebags is simply wrong. They are paid to perform as actors. While the damage they do via steroids, etc, is mockable, their actions as "douchebags" are not. It is performance.
Similarly in music, the personas of stage performance often require elaborate and theatrical dress. Thus calling Keith Richards douchey for wearing crap in his hair, when it's part of his mythos, is similarly misguided.
Bodybuilding, lacking any coherent form of narrative, is about pure spectacle. The nature of douche culture, the spectacle of the cartoonish in the age of media overstimulation, thereby allows bodybuilding douchery to emerge as legitimate mock, even under the rubric of organized sport.
And besides. They're too orange/burnt umber not to laugh at.
That being said, the Mark Mark lookin' dude pictured here is a classic example that not all bodybuilders are douchey. In fact, I'd probably give him a nottadouche, and then be terrified to flirt with Stephanie lest he kick my ass when he got back from the bathroom.
So all pumped up inflatathons are not autobag. So let it be written. So let it be done.