Thursday, August 4, 2011
Breaking: Football non-legend Jeff Reed Still Has A Job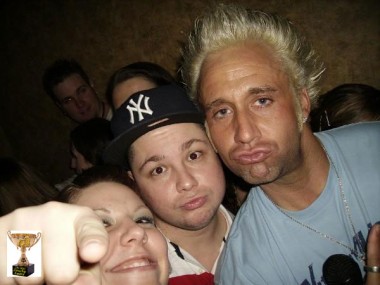 In breaking sports news, defending two time Douchiest Athlete of the Year (2009 and 2010) and former Pittsburgh Steelers layabout, Jeff Reed has been signed by The Seattle Seahawks, bringing his patented brand of doucheclownery to the Pacific Northwest.
The Reedbag first became noted for drunken, shirtless barbaggery back in 2007. Reed Vegased it up in 2008, and his career peaked with his Tom Hanks like back-to-backs at the 2009 and 2010 Douchie Awards.
And here we thought baseballer Brian Wilson of the S.F. Giants, The Jets' Mark Sanchez, NHL'er Brandon Prust or Dallas Cowboy's Dez Bryant might have a shot.
Looks like the Reedbag could go for the NFL Douche Trifecta, a run of douchebaggery not seen in the league since early 90s Deon Sanders.
And in sad football news, R.I.P to the great football player and star of the "Police Academy" movies, Bubba Smith. Here's hoping the great Hightower will finally get time to tend to his florist shop in the sky.