Tuesday, August 30, 2011
Caption This Pic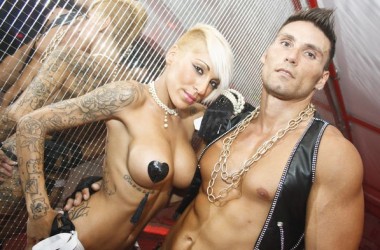 After the Green Latern failed to perform at the box office, "The Choad Warrior: Beyond Thunderboobs" represented a new thematic direction for Warner Brothers and Marvel Studios, or as Stan Lee called it, "Boobs."
EDIT: For those who can't take the garish nihilism of this pic, have some Undies Pear. And then caption that pic as well. With "Pear."
EDIT: Okay this thread is too damn hilarious not to highlight a few captions. In no particular order:
ehcuodouche: Q: Who runs Douchetown? A: Leathervest Fwippyhair Tirechainnecklace runs Douchtown!
UFO Destroyers: Casual Fridays were never the same.
Douche Wayne: "The Grind" took a nasty turn when it was moved to MTV7 (Berlin).
wonderdouche twin: "Dumbass Dancing" a fun hip new take on an American Classic.
Wedgie: One and a Half Men.
Anonymous: The Girl With Fag an' Tattoos
Baron Von Goolo: Each of their genital piercings is a broken half of the same heart. It's really very charming when you think about it.
Some longer posts were even more genius, but gotta keep it short up here on the main. For laughs, read the whole thread.