Friday, August 19, 2011
Friday Haiku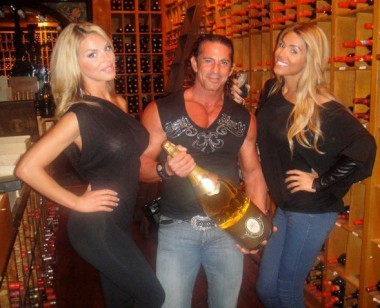 "I use Magnums, girls…"
Later they found that he meant
Butt plugs, not condoms.
or:
Jack proudly displays
His daily ampule full of
Horse and mule steroids.
*UPDATE* – See? DarkSock's failure and procrastination pay off, as usual. Behold the bounty of 5-7-5 Snark:
Magnum goes full Kahn.
Sommelier to the sluts.
I'll take seven Bra.
— Reverend Chad Kroeger
Not to be outdone,
Dewey's steroid enhancements,
Compete with Fay's cans.
— Franklyn DealorNo Doucheifelt
Vic has a tough choice:
Giant bottle or huge cans
Right chick needs a shave
— saulgoode42
That is how much booze
It would take me to have sex
With him. All of it.
— I give up
Magnum of Cristal
Compensates for one small peen
Dom Perignon weeps
— Choad The Douche Sprocket
Napolean Bone
Overcompensates for peen
"Gimme the big one!"
— Douche Wayne
Here's the wine cellar
Deep in Mr. White's basement –
Drink up, you douchebag.
— Medusa Oblongata
Bottle service
means Something very different
To gay porn star here
— Jacques Doucheteau
The midget vintner
Shows babes " The Roid Rage" pinot
Crushed grapes between legs
— Cool Hand Douche
Big Heaving Bosoms
Narcissism on Display
There Are Girls Here, Too
— DoucheyWallnuts
Jack Lalanne becomes
reincarnated as douche.
Fuccen juicer works?
— Dr. Bunsen HoneyDouche
Katie smiles and says,
It will take a more booze than that
Til you flick my bean
— Dude McCrudeshoes
Nipple nipple nip
Nipple nipple nip Nipple…….
nip nipple nipple
— McWhatadouche
One out of the three,
Can deep throat the whole bottle,
Hint: It's not the blondes
— Condouchious
My dream tale would read:
"Bottle cracked over 'bag's head;
'blondes' strip, bathe, wrestle."
— Wheezer