Friday, August 5, 2011
Friday Thoughts and Links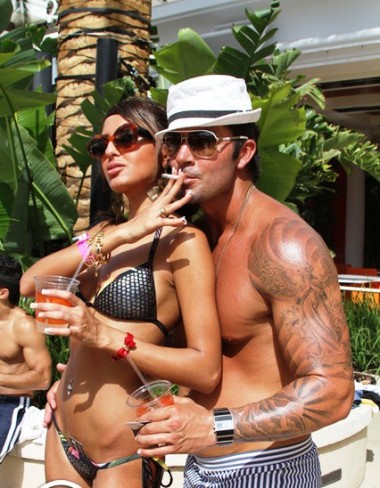 As this Friday afternoon of hazy Los Angeles flop sweat and fancy cars without licence plates driving on Ventura fades to dusk, I contemplate this image of unholy culture pooper.
The notion of a Vegas lady's crotch as a credit card, usually a metaphor for the societal exchange of beauty as currency, is here writ literal.
Mona's rendering of Explicit Credit Card Crotch, as she helps Bartender Generica Aspiring D.J. #561 smoke his cig, speaks of a market system inscribed as corporeal totem.
The currency of our bodies. Reflected back to us through the value system of mass media. A culture industry of exchange with the fear of aging and decay underlying the purchasing power manipulation. So wrong. So very wrong.
Won't somebody think of the alpacas?
And so I sip my 'Train. And imagine boobies of pure joy. In a world without commerce.
Here's your links:
Your HCwDB DVD British Comedy Box Set of the Week: "You weren't ill, you just ate a tin of curry powder and painted your face green! I knew it was a hoax because the paint washed off when that enema backfired."
Summer's Eve is taking their talking vagina on a roadshow tour like early Al Jolson.
Heidi and Spencer are broke and living with their parents. In a related story, who are Heidi and Spencer again?
A genius t-shirt deconstructs douche-wear.
High School students in Minnesota hold "Wigger Wednesday." Black students not amused.
Hipsters With Too Much Time on their Hands.
I'm convinced the X-Games are avant-garde absurdist theater critiquing a generation in existential crisis. There's no rational way people are interested in this idiocy.
You thought authentic douchebags were on the decline? Not at all. Here's a Douchebag on Facebook.
The sharp research reporters at the Village Voice are shocked to discover Snooki was on a reality show before The Jersey Shore.
Speaking of MTV, the greatest network of the 1980s began broadcasting 30 years ago this week. As the single televisual event that defined by childhood, and then gave me my TV break as an adult, I will always be grateful. For launching Spencer and Heidi, and all those celebrated pregnant teens, not so much.
And according to website The Big Lead, my show Is She Really Going Out With Him? was one of the top 30 MTV moments of the past 30 years. Nice!
But you are not here for nostalgic MTV. You are here for Pear.
First up:
Quality petite foreign suckle thigh. But if that is not enough, reader Vin Douchal offers us his own personal Pear 'tag:
And if that's not enough, have some:
We sail tonight. And we sail together. Onward. Onward. Until the sky turns red with morning hope.