Friday, August 12, 2011
Friday Thoughts and Links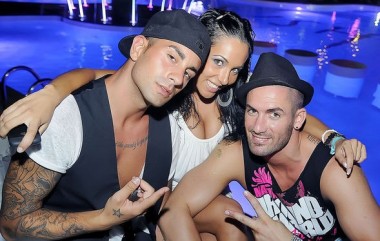 Vegas pools.
Spawning stupid hats since 2007.
For in the land of excess, in a country hit so hard by the economic realities brought about by a decade of douchebag culture's narcissism, greed, and self indulgence, the metaphor of the pool offers notions of baptism, journey and cleansing of the sins of the skin.
And they also look all badass when lit up with blue light.
Here's your links:
Your HCwDB DVD Box Set Pick of the Week: "Smoking marijuana, eating Cheese Doodles, and masturbating do not constitute 'plans' in my book!"
From the Nature V. Nurture debate: Sexually extravagant male birds get old faster and have bum sperm. Like Roy Batty taught us, the candle that burns twice as bright, burns twice as fast.
For those who still haven't heard, the news about HCwDB legend and fist pumping Mecha Hineyho, aka "Zyzz" is true. Australia's legend passed away last week in a sauna in Thailand.
Hipster Band in NYC sings an ode to Internet Comment Feedback.</p?
Here's your Bleeth of the Year winner. Way to go, England. So much for the land of Shakespeare and Doctor Who to save us from the Douche/Bleeth Plague.
Annoying Nerdbag headlocks his date at Coldplay concert. You had douchebag at "Coldplay Concert."
HCwDB's long time 'bag hunter and writer/producer guy douche equis is pleased to announce a Black Dynamite animated series on Adult Swim. Checkitout.
Shaved alpaca. What next? Alpacas in low rise jeans? Is there no modesty these days?
But you are not here to laugh at idiots who waste money on Coldplay concerts and lust after shaved alpaca. You are here for Pear. And today we enjoy a slice of real world Pear, no airbrush or fancy photography tricks:
Just two mounds of gnaw punch slappy slap Venician glass canal Italian pimento chomp.
Enjoy.
For Friday > Thursday.