Friday, August 19, 2011
Friday Thoughts and Links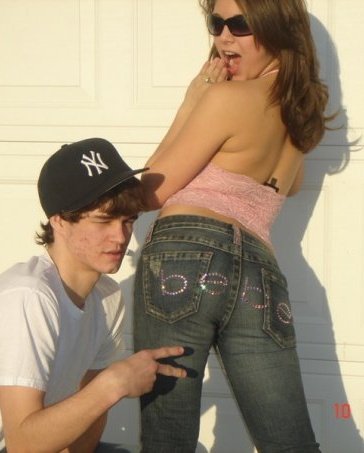 Oh, Skippy.
How happy you are, with your 10 Degree Yankee Hat Tilt and your awkard sideways peace sign.
You are a mere 'bagling. And so we throw you back, even as we know you'll eventually morph into wigga poo.
It's Friday. And I virtually slap the bebe with a fly swatter. As another week has passed.
Here's your links:
Your Existential, perhaps Nihilistic, HCwDB DVD Pick of the Week: "Well, basically, there was this little dot, right? And the dot went bang and the bang expanded. Energy formed into matter, matter cooled, matter lived, the amoeba to fish, to fish to fowl, to fowl to frog, to frog to mammal, the mammal to monkey, to monkey to man, amo amas amat, quid pro quo, memento mori, ad infinitum, sprinkle on a little bit of grated cheese and leave under the grill till Doomsday"
New York Gold Diggers and aging Wall Street Assbags get organized.
The great Siskel & Ebert debate who's funnier Woody Allen or Mel Brooks, from back in 1980. The correct answer, in terms of pure comedy, is Mel Brooks.
Here's a rare and important posthumous video of a conversation between the late "Zyzz," aka Mecha Hineyho, and his brother Chestbrah recorded in the days before Zyzz's passing. An important artifact for posterity's sake.
Douchebags are so bad for branding these days that Abercrombie & Fitch offers to pay "The Situation" to stop wearing their brand.
And yet more signs we might be winning the war: A newly opened downtown L.A. club bans Ed Hardy. From the article: It's a place where downtown's business community, its nocturnal visitors and its residents coexist, where the atmosphere is casual and the dress code is free — with one exception. "No Ed Hardy," Perch co-creator Coly Den Haan says with a smile, referring to the gaudy tattoo-inspired T-shirts created by Christian Audigier.
Two bros spend their Sunday morning Bollywood Style. Full nottabag passes for hilarious college buffoonery.
But you are not here for Bros.
You are here for Pear. And you've earned this one, named for the cinematographers in our midst:
Mmmm… I have flashbacks to 'Nam. Assnam.
Go forth and imbibe. Your work is done.