Monday, August 15, 2011
HCwDB of the Week: Joey Lumpcrustowitz and Kate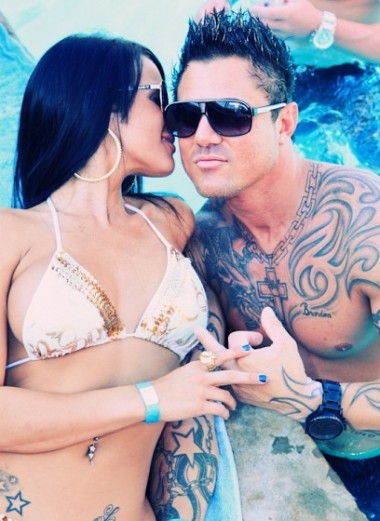 I must've been tipsy on rice wine last week not to realize that Joey Lumpcrustowitz and Kate were the same hottie/douchey poolaggery combo that appeared on Friday as Spencer and Sexy Lacey.
So even with a two week back catalogue of hottie/douchey pukosity to wade through, this was an easy HCwDB of the Week.
No 'bag/hotts came close to this level of innovative douchal development (Jesus Bling tatt) and lithe pool suckle hot poochle in Kate's taut, albeit a tad too skinny body.
And there were some notable ones. The two that nearly took the price: Dances with Crabs, Stands with Cosmo and Scratches with Itch, and Muttonchop Max and Megan. Both brought itchy wrongness to the game.
And lets not forget the pewey poolbaggery of Shrinky Dink and Karen.
Also notable over the past two weeks, the return appearances from HCwDB legends like Brazilian Emo Hulk, old friend Big Red, Unfinished Tatt Guy and Gorgeous Sandy, Prickles the Clown, The Starry Blight and Hello Kitty Hott and The Greasepitz.
Nor shall we forget Perfect Sucklechomp Amanda. Whose leg I hump pensively in the abstract and with full due respect.
But who are we kiddin'?
For sheer classic 'bag pukeshoescrape and tasty if slightly underfed hottitude, Joey Lumpcrustowitz and Vegas Kate were not to be denied.
Slot 'em for the next Monthly. And slot me for a microwavable breakfast burrito. Cuz I'm healthy like that.