Monday, August 29, 2011
HCwDB of the Week: The Chernobros and Cathy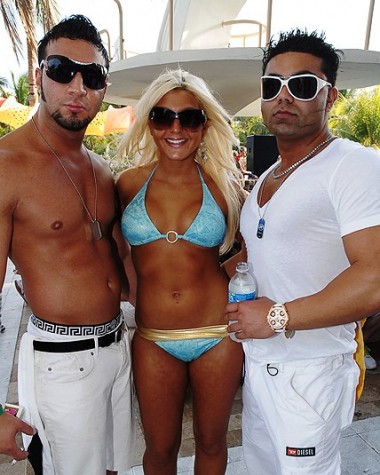 Gearing back up as your humble narrator digs out of the silliness of hurricanage and NYC and traverses back to the city of Angels for more pitchage and catchage of the Hollywood balls variety. Wait, that sounded vaguely gay. But not as gay as the Chernobros.
No slice of classic 'bag sandwich formation has been this moldy and rank on the site in months.
Tri-facial pubery. Moob shirts. Crushing a hottie filling.
For example, take this Twinkie.
Imagine the golden spongecake was greased up assclownery. And then imagine that creamy filling was burnt umber Jerzette hott foolery.
Now picture that Twinkie existing as HCwDB.
That's a big Twinkie.
A buncha other pics were in consideration as it was a pretty toxic week last week. The Search and Destoyer Pud from the Friday Haiku was Vegas crust, There was 2-Cap and Courtney, Mashmouth and Margarita, and fist pumping Billy Von Buren.
There was Happy Mitch In Over His Head, The "Challo!" Guy and The Holy Breasteses of Avalon.
Lotta potential 2011 Douchie noms in that mix. And by noms, I mean Holy Breasteses.
But this was classic 'bag sandwich time to elevate (sink) to the Monthly. Chalk 'em, Dano, and the DB1 for NYC bagels.