Thursday, August 11, 2011
Name Those 'Bags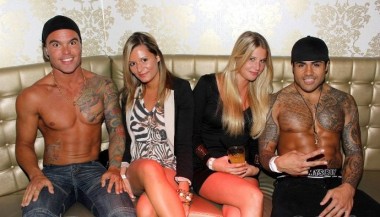 Here are two classic crimson douche bros we've featured numerous times on the site in various crypto-gay poses while pretending to hit on Woo Hotties.
Can you name them?
First to I.D. them in the comments threads wins a hearty handshake, a glass of water and a magic penny.
Yup. I have a block on these guys in my memory. Like most primal trauma, I repress.
EDIT: Readers Et Tu Douche? and Model Train Mayhem share the prize, with Et Tu remembing the atrocity that was June's Crazy Eyes Killah (real name is Jared) and MTM fully tagging these clowns as March's The GreasePitz. I may need to give these bronze turdsers a special dispensation to compete in the 2011 Douchie of the Year contest.