Wednesday, August 17, 2011
The Greasepitz Pose with the Amanda Sisters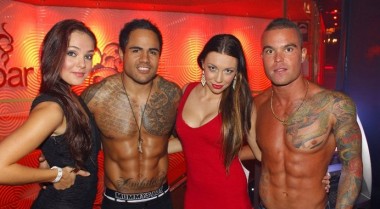 Crazes Eyes Killah (aka Jared) knows one thing, and one thing only in this short, abbreviated, fist pumping life.
The bigger the pec, the more the vacuous and insipid free verse may be inscribed upon it. Like psuedo-spiritual wisdom peed on a kumquat.
Amanda #2 offers the raucus curves of greyhound race fondle spank poocher firefly slap summer harvest peach chomple chew. And for that, I burn frankincense and mur to honor the purity of her mamms.