Monday, September 12, 2011
Ask DB1: Matt Stafford Reconsidered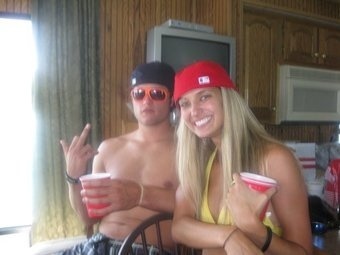 In honor of the start of football, Nick writes in with a question about The Staffordbag:
—-
My roommate considers you an asshole for calling Matt Stafford a stage-2 bag. He claims that Matt Stafford is not a douche even though he wears classic signifiers such as the plaid shorts and tilted hat. Please correct him. I demand a quorum in order to solidify Stafford's place in the hall of baggery.
——-
There is no Sports Leniency for douchebaggery. None.
Staffordbag would earn a stage-2 fratbag for this pic alone.
No pass, no matter how well he does this season.
Douche.