Saturday, September 10, 2011
Comment of the week: Capt. James T. Douche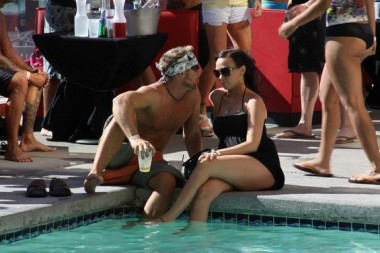 Capt. James T. Douche, inspired by another excellent rant by tattoo artist Medusa Oblongata, beams in to win the coveted HCwDB Comment of the Week with this reflection on the horrifying trend of lady ribcage text tattooing in the Quoth the Raven: "What a Douche" thread:
—–
Rib cage dialogue is the new tribal tattoo, atleast though there is some comfort in the knowledge that in a couple of years the Vegas pool scene will dry up for people like this, they'll succumb to an obscure suburban existence and shit out a couple of Bleeth/douche larvae (thus the circle of douche life continues) and that once clever dialogue will look like a Rhorschach test. Every morning in the mirror will be a requiem of days spent rubbing elbows with the cream of the douche crop at Wet Republic and nights Bleething it up at Pure and Tao in a vodka and redbull haze topping off thier evening of youthful frivolities being pecker slapped silly by guys like rockerbag.
——
Pretty much sums it all up.