Friday, September 9, 2011
Friday Haiku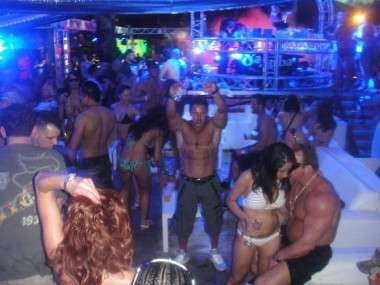 Bouncer accosts guest:
"Your abs aren't visible, Sir;
Shirt, Shoes…No Service!"
Center Douche works at
Meinke Muffler all day long
Sore arms won't go down.
— Franklyn DealorNo Doucheifelt
Ice Station Douchebra,
Where souls suffer in torment,
And sip warm Red Bulls.
— Jay L.
Frank's double fist pump
Went unnoticed by Tina
And, well, everyone.
— saulgoode42
The Mass o' douchettes
in this primary don't seem
to like him o' roids.**
— The Dude
**nominee for groan-inducing pun of the year – D.S.
Civilization
It ebbs and flows for all. This
is what ebb looks like.
— Wedgie
By the power of
Gray Skull. I am He-Man. Show
Me to Dude-Action.
— The Reverend Chad Kroeger
Dance to the blue light
Like greasy moths to the flame
Guido bugzapper
— Hong Kong Douchey