Friday, September 30, 2011
Friday Haiku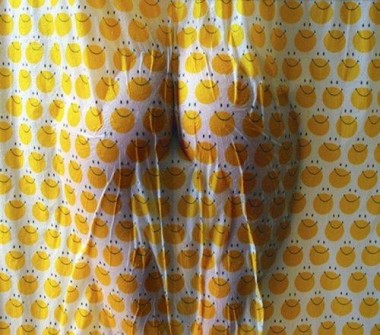 Those of you aroused
Will be crushed to realize
This is my peen's tip…
It is rare indeed
When meat curtains meet curtains
Smiles all around
— saulgoode42
Shrink wrapped ground ass chuck
Begs "Poke a hole with your thumb"
Like child at market.
— johnny applesack
gentle smiling butt
supple under smiling sheets
waiting for my peen.
— Troy Tempest
Fenny's butt-cover
Does not fool a connoisseur
One-of-a-kind ass
— Wedgie
Hidden behind sheet
Round supple buttocks fart
In timid repose.
— The Reverend Chad Kroeger
Smiley faces; you'd smile too
If you were there
Up against that Pear
— Chris in 'Baghdad
a hint of ass pear
wizard behind the curtain
enough here to fap?
— Douche Springsteen
You may be turned on
But will become nauseous;
This is a front view
— DoucheyWallnuts
R.E.M. gave us
"happy, shiney people". She
gives I.O.B. cramp.
— Dr. Bunsen HoneyDouche
Smiley faced curtain
my cock would tear right through you
into glorious pear
— Mandouchian Candidate
During the drug raid,
The D.E.A agent asks,
"Where'd you hide the crack?"
— hermit