Friday, September 9, 2011
Friday Thoughts and Links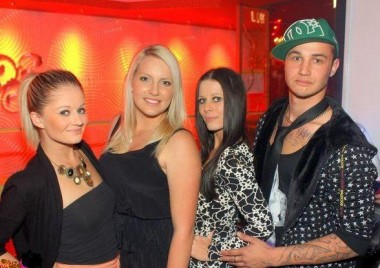 Ah yes, the Z-Axis Hat Tilt.
A rare event. Like the Aurora Borealis. Or hearing a car horn in Los Angeles.
Another Friday comes to pass, and I find my thoughts drifting lazily to thoughts of cookies.
Cookies are so great. I enjoy them heartily. They even have a cute name. How many products are named for the process by which they are produced?
Very few. Think about it. And that's alls I got.
Here's your links:
Your HCwDB Grand Guignol DVD Pick of the Week: "I was busy pushing bodies around as you well know and what would a note say, Dan? 'Cat dead, details later'?"
File under pics I probably shouldn't run but will anyway: Hot Chicks with Stephen Hawking. "Hot Chicks" being a relative term. Get it? Get it? Relative… oh nevermind. And way to make 'Bag Hand Gesture #314159 there, Hawkingbag.
The sexiest woman of the summer: Semitic Librarian Hott and Future Ex-Mrs. DB1 #5.
But even Mila can't compete with the hottness of interspecies Alpaca-Kitty action. So hot.
Full throttle douche bottle! Kinda amusing.
Pauly D continues to be the most profitable douchebag of 2011. I will renew drinking heavily. The war is being lost.
But you are not here for Pauly D updates. You are hear for top shelf quality premium Gnaw Pear, are you not? You are. Then here you go:
The vanity is deserved.
Go forth. Go forth and poke chomp slap. For our female 'bag hunters, go forth and flirt with a funny guy. We're hot too. Even without the six pack abs.