Friday, September 16, 2011
Friday Thoughts and Links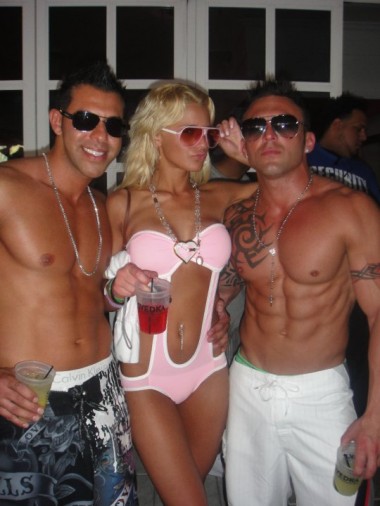 Every time I think douchebags are no longer a viable source of mock, that they've become rodeo clowns and circus performers, I remember that boyz like the Lancelot Boyz are still out there.
Still spending day and night preening and prepping to try to mack on the Slutty Hotts that power our Priuses.
It's enough to dive a man to Malomars.
Here's your links:
Your HCwDB BBC DVD Box Set of the Week: "People assume that time is a strict progression of cause to effect, but *actually* from a non-linear, non-subjective viewpoint – it's more like a big ball of wibbly wobbly… time-y wimey… stuff."
When douchebags kill puppies: Queens Bodybuilder throws his dog out of a window. This is why we mock.
If you haven't seen the perfection of the purity of Semitic suckle thigh coy pearliciousness of the leaked Scarlett Johansson iPhone pics, you owe it to yourself to do so (NSFW).
In sports douche news, The New York Islanders have designated an official tattoo parlor.
In Defense of Plastic Surgery.
Source Plague Typhoid Mary of the douche virus: The Grieco joins Facebook. Scroll down to check out the first item listed under "Activities and Interests" and it'll all make sense.
Courtesy of Hurl Scheibe in the comments threads: Brazilian Beer. For when third world hyper-inflation gets you down.
You think the Honey Badger cares? "Thanks for the mouse, see ya later!"
Grandpa Gets a Webcam. Oh, lookit that monkey!
But you are not here for confused old people and gay nature films. You are here for pear. Here ya go:
Sure labeling humans by writing on their bodies has terrible historical antecedents like slavery and the holocaust. But Pear cures all haunting ills of the past in one semi-globulic formula.
Go forth and chomp.