Friday, September 23, 2011
Friday Thoughts and Links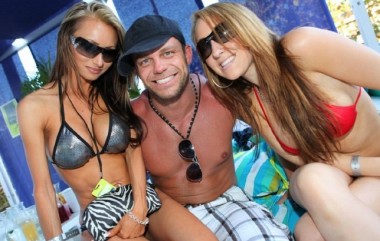 As this crisp Los Angeles Friday turns breezy and gusty with the desperate cries of frustrated servers working at Chipotle who really totally could've gotten that part in "Footloose" if the casting director wasn't such a pidge, I meditate on underfed Ukranian hott.
Underfed Ukranian Hott in creepy blue bathrooms, with succulent pokey poke power boobs, heapings of euro attitude, and zebra purse.
Enough to make Todd (with his oft ignored but great at Scrabble sis Mandy), start to hat tilt and sunglasses hook. You almost had the notta Todd. But hat tilt and chin fung must not pass.
Yup.
'Tis Friday.
Your humble narrator pees on Hollywood.
Here's your links:
Reader Stefan suggests we make LMFAO's"Sexy and I know It" the official theme song of HCwDB. Gonna be hard for me to ever replace either the great Vin Douchal's "Donkey Opus in Douche Major" or Foglizard's "Hot Chicks with Douchebags"
Some Friday Zen: An incredible series of color photos taken of New York City between 1941 and 1942.
There have been many movies made since 1895 when the Lumiere Brothers first projected "Train Arrives at the Station" on a sheet at the Grand Cafe in Paris. Trog is one them.
Some days it's time to chat about Heidegger. Some days, not chatting about Heidegger, but wine. Other days, chatting about Gordon Ramsey Lookalike Pornstar Dwarfs Killed by Badgers.
My cousin (on my father's side), Lu Louis, stars in My Roommate The Athlete. Give it up for what the cast of Swingers would've been up to if the internet had been around back in 1996.
Got red hair and sperm? No thanks.
If you're ever in Southern India, the term for douchebag is Tumbida koDa tuLukuvudilla. Translation: "The pot which is full does not splash." Makes sense. Sort of.
Speaking of Pear, now's a good time as any to remember that formerly barely famous something or other, Jennifer Love Hewitt, once complained about being called a 'Pear Ass.' Ladies, it may be reductive and objectifying, but it's still meant as a compliment.
The great, cryptic and mythic hero of HCwDB, the legendary John Largeman, was caught on camera catching a foul ball, Ferris style.
But you are not here for John Largeman Ferris moves. You are here for Pear. And it's time we go back to a classic:
Like two fleshy sea grapefruits gargling jello.