Friday, September 30, 2011
Friday Thoughts and Links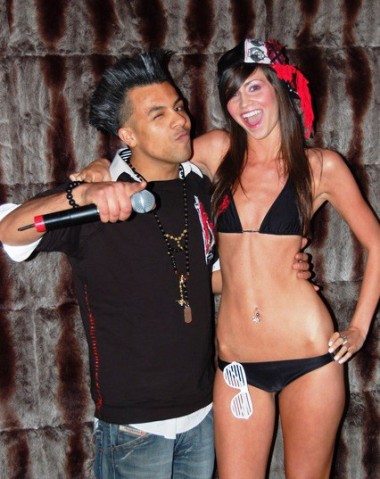 Sometimes 'bag hunters will stop me in the street and ask me, "DB1, why you smell like prunes?"
After I explain the intricacies of the digestive tract deprived of fruits and vegetables outside of a Hostess Pie, they then ask me something else.
"DB1, if you grant a performative leniency rule for scrotes whose job it is to perform scrotily, why doesn't it apply to D.J.s?"
And I answer softly. Because D.J.s are camel poo. And Linda needs a sammich.
Here's your links:
Your HCwDB DVD Indie Doc of the Week: "Kill Your Idols!"
The winner for douchiest energy drink of 2011? Blue Storm. Bringing douchey American culture to Afghanistan since 2002.
Speaking of the military, eagle-eyed reader justadouchalo catches Closet of Poo legend, Poo, being called out for pretending to have been a military P.O.W. Irony alert: When his 'real' name is "Winslow Jefferson Ballsworth" it may not be a real profile. Just a consideration.
Ever wonder what happens when a nerdy math geek meets a douchey hairstyle? Of course you have.
Jon Stewart takes on The Nanny. Back in 1997.
The greatest punk band of them all: The Buzzcocks. 1978.
Speaking of old music, there is only one B.O.C.
Or if you're looking for current stuff, lately I've been digging on Cut Copy. Even if the video is hipster stupid, that track both evokes, and subverts, New Wave tropes.
More Cut Copy here. Walking the fine line of techno douchey, but I'd argue they transcend.
Some days I like to sit by a fire, enjoy a tasty chocodile and milk, and read some Vonnegut or Melville. Some days I like to gnaw on this.
But you are not here for Gummi gnaw. You are here for Pear:
Where droplets and Green Cards collide.
Enjoy. For the Weekend is upon.