Monday, September 12, 2011
HCwDB of the Month
Today's a big day. Four unique slices of mold choad. Four intriguing battles for hottie/douchey supremacy. But I need your help. Which of the following four couplings of intestinal disorder is most deserving of competing at the 2011 Douchie Awards for HCwDB of the Year in December?
Here's your finalists:
HCwDB of the Month Finalist #1: Joey Lumpcrustowitz and Kate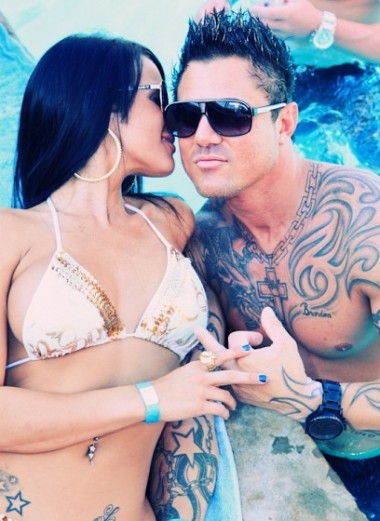 Bringing two quality pics of Vegasian poolbaggery to the game, including Joey Lumpcrustowitz Gives You the Finger, here there be odiousness.
From tattoo Jesus Bling to spikey hair in the pool.
From hottie suckle thigh to spanky poochle slap.
Here there be Vegas asswippery.
And here there be waitress who aspires to model.
Together, boobies and stupid tatts.
Like the early alchemy that formed the Reece's Peanut Butter Cup. Or the great Bob Ueker moderating Tastes Great / Less Filling debates of the mid 1980s.
A strong, strong, first entry.
But if you think this pairing is toxic, there's three more to go.
HCwDB of the Month Finalist #2: Wankus McHannibul and Pearielle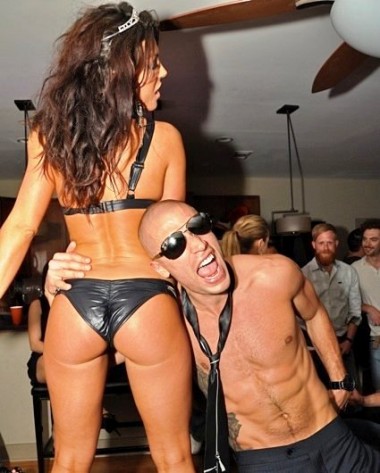 Party boi festercrud here once starred in an Australian Biker Film.
No, not "Mad Max."
It was a lesser known straight-to-video release called "Sucky Bald Douchebag On a Bike."
Worth Netflixing, though.
It had a fine early performance from Thandie Newton in it as the hot chick.
Yup.
No idea what I'mma saying anymore.
But leather tie, even if this is Paid-to-Douche professional entertainment, is still ubermockworthy.
HCwDB of the Month Finalist #3: The Chernobros and Cathy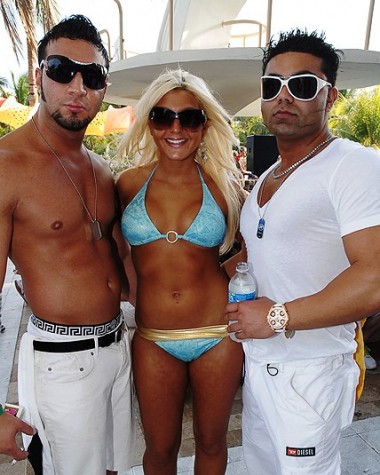 This nuclear meltdown of douche sandwich is the rare "bros" pic in the Monthly.
But do not let the fact we have two 'bags instead of one split or otherwise distract your vote.
Look at that chin fung. Come on now, people. That's the sucky suck.
For together, like the Wonder Twins, the Chernobros alter the DNA of all those in the fallout radius and form a collective poo turd.
Cathy is sweet, cute, giggly, and viably holding up the hott side of the equation, even if lacking in Pear thickage.
Together, can this trivection oven hold up in the Monthly?
One more to go:
HCwDB of the Month Finalist #4: Sir Ivan, Ashley and Ananda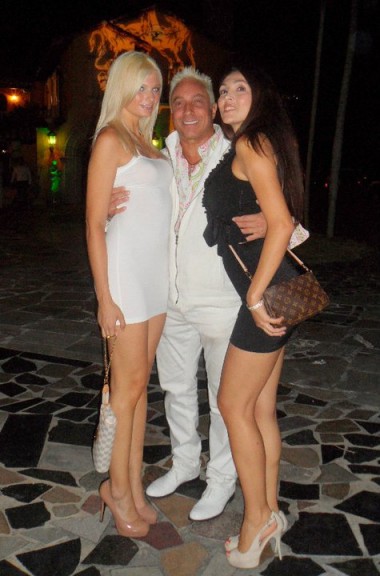 Olbaggery representin'.
Ashley and Ananda are gazelle paid to pose gnaw legs of poochy slap.
Sir Ivan has a homepage that looks like this.
Can a paid-to-buffoon Oldbag make it to the Yearly?
It's tough competition.
As the DB1 enjoys a tasty bowl of Frosted Flakes and reclines on a stained and saggy sofa while contemplating the bleak crises of postmodern corporeal denature, it's your turn.
Which of these four pics deserves entrance into the Yearly?
Vote, as always, in the comments thread.