Monday, September 19, 2011
HCwDB of the Week: The Lancelot Boyz and Perfectly Hot PTA Mom Vanessa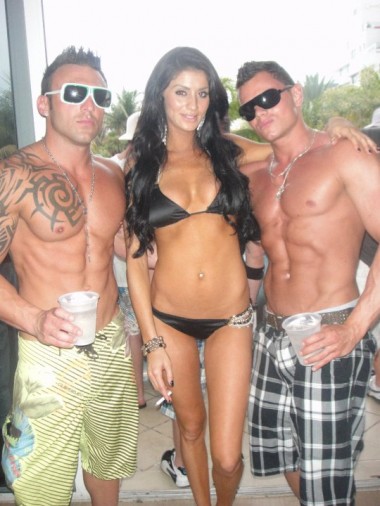 With a late-week run of pics, including Lancelot Boy Melvin and Stephanie, a Classic 'Bag Sandwich on Laurie, and once again Bothering Vanessa and her Bestie in a Room Full of Bros, it wasn't even close.
And yes, that's Perfect PTA Hottie Vanessa in both pics, as proven by this side-by-side created by reader Douchble Helix.
Our first entrant in the next HCwDB of the Month brings the hott side hott, and the douche side toady.
Thassa lotta shirtless douchery in the presence of A List Gnaw Girls. More than enough to win a deserved place in our next Monthly.
For the L.B.s are real world preening spectacle of zombified unthinking neo-Nordic fascism and leaders in the future war of ethnic cleansing and eugenics.
Okay, maybe that's a tad far. But more than enough to trump the oafish clownish meth addictions of Riff Raff and Stripper Girl #45.
Although honorable mention must be paid to the perfect spackkle pear of Amazonian Stripper Pair and Holy Cleavite of Tonya the Tiger in Willie The Kidd Discovers the Rare Amazonian Stripper Pear.
Also props to Bolivian Slip hangin' with Lounge Lizard Larry Borrows 40 Bucks. That's a tasty third world milkshake of fondle grab I haven't seen since gun running for Zapata during the revolution.