Tuesday, September 6, 2011
HCwDB: Police Lineup Edition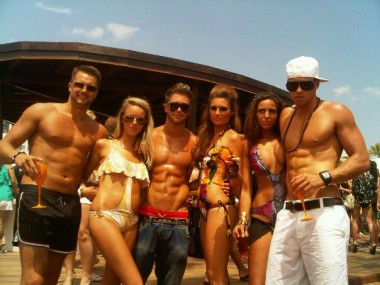 Somewhere in this lineup of hot chicks with douchebags, I've carefully hidden the worst serving of potent orange groin shave reveal since April's Marty.
Look closely.
Can you gouge your eyes out with plastic orange wine glasses?
Thankfully, Angie, Angie and Marie have agreed to each wear authentic Rube Goldberg Bathing Suits, providing us the perfect framework to appreciate the douchadox of their trashy hott Bleethery. Just pull the string and watch what happens!