Friday, September 2, 2011
Labor Day Weekend Thoughts and Links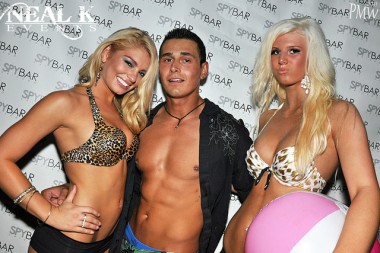 In this, the age when politicians routinely piss on the working class of this country, it's important for us to take a moment remember what Labor Day really stands for.
Those among us who aren't wealthy, beautiful celebrities or powerful wall street titans.
Those among us who don't blow all their time and money on a life of privilege getting stupid tatts and spikey hair and lounging by the poolside in Vegas.
The regular joes.
The people who used to be celebrated by this country as the backbone of our nation are now seeing themselves targeted as criminals, called lazy, shiftless, or deserving of what they've gotten. Rich and powerful clowns, coming from the same narcissistic cesspool that produced douchebag culture, now routinely equate the labor class with failing in life.
These preening egos in suits and ties, douchebags of the worst sort, get on our TV and lecture us like their money means they are enlightened. They actually believe, or have convinced themselves, that their money was earned because of the greatness of their "individualism." In a vacuum. And the rest of us need to be like them. Or we get what we deserve.
These flaming pudwacks who've read too many Ayn Rand fantasy novels are insecure enough not to want to understand the network around them in which they are graced to live. How those at the bottom also produce the value they think they "earn" from the society that holds the rules and structures together to produce our collective national wealth.
Don't be one of those asswipes.
Remember what Labor Day really stands for. Income does not define your rank in this world, no matter what how the media now stigmatizes and shames those at the bottom as lazy and shiftless.
There are different standards. Standards we used to apply before a few billionaires with too much power and too much insecurity decided to teach us all the lessons of fantasy in which they are Atlas, and we are the teaming hordes, the unwashed, clawing at their greatness.
F@#k them. No one "earns" a billion dollars. It's not possible. They are not heroes. They are insecure fools, confused by their success and seeking a philosophy to justify their narcissism. Even a philosophy as fantastical as Scientology and as logical as Narnia.
I'll take the guys in front of Home Depot over the jackass from Wall Street any day of the week and twice on Sunday. And on Monday, I'll tip my Ubiquitous Red Cup to honor those who don't have anything, but still get up and go to work every day.
Here's your links:
Your HCwDB DVD Pick of the Week: "If a fox stole your chickens… Would you slaughter your pig because he saw the fox? No. You would hunt the fox… You would find where it lives and destroy it! And how do we do this? Become a fox."
Speaking of foxes and chickens, if you feel like trippin' out this weekend, dig the Animal Beatbox. Skip to 1:50 for a glimpse into the DB1's secret fantasies.
Leisure Diving. Photographic genius and summer slackerdom in one creative package.
My latest quartasian (alas not Semitic) semi-celebrity hottie fixation is Marie Digby, singer or something. I would sexy love her legs for a fortnight or six.
An eagle-eyed reader trolls the web for porn and discovers HCwDB Hall of Pear legend Ass Pear LaPlante has been hijacked! Ransom is only $1.99 for unlimited downloads.
Pink Dudes Want to Party. Hot chicks don't.
Finally, a justification for Facebook. Remember, it's not bestiality if you groom them first.
If I had to pinpoint the exact moment I first discovered the compelling power of the uberhott, it would be when I first saw this scene from "Malibu Bikini Shop" on HBO in 1986. Barbara Horan changed everything about my understanding of life. And sort of for the worse. The desire to gnaw has never stopped plaguing my waking and dream lives like a propulsive compulsion of redirected primal humpty hump.
You aren't a true Lebowski fan unless you can argue either for or against The Donny Theory.
Speaking of humpty hump, let us not forget how even nature likes to remind us of the Pear. As we appearciate:
Less meaty than her American cousin Pears, it is still firm of chewtoy. And well worth guiding us into the weekend.
Have a great Labor Day. Posts'll continue a little over the weekend, and then we'se gearin' up again next week.