Thursday, September 8, 2011
Reader Mail: The Kadebag Gets a Job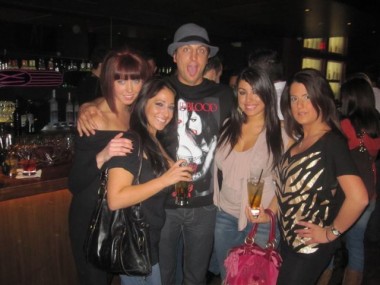 Sergeant Scrote Stain reports in from the front with a report on an old uberdouche, Arthur Kade:
—–
'Tis been a while DB1.
As a wildly undeserving member of the Hall of Mock, it is incumbent upon me to shed light onto one of the more hilarious happenings of my past month, or three… or year (who really knows, my life isn't all that exciting).
There was a time in the storied run of "Hot Chicks with Douchebags" in which a colossal Pud-Giant rose to scrotastic heights that even Jason Beinlich – i.e Stackhouse, for you non-stalkers – dared not touch. This man brought forth a stench of vanity rivaled only by Saddam Hussein's left testicle, the immortal Arthur Kade.
For those of you who missed the epicenter of pudwhackery that was Kade, rest assured, he is the wretched stench of egotistical douche personified. His website is a treasure trove of unintentional comedy, just classic stuff.
Anyways, as the seasoned Baghunters are aware, Kade's antics grew tired and we left his bloated gel-enhanced mug behind for fresh sources of douchetastic entertainment (as we always do. Except in Fish Slap's case. We do not tire of his reek. And by the way, F&#K Fish Slap!).
But Authur Kade is back. And oh god, is it with a vengeance.
I was hanging out in the living room at my Mom's house watching some TV with the family on Labor Day, because that's what we hatters do. My Mom is really into murder mystery and true crime shows, because, of course, we're a family of morbid sickos. And an especially horrific program came on Discovery – Investigation and Discover. The show is called, "Who the Bleep Did I Marry,"
and is about unassuming spouses married to secret monsters; riveting stuff. Episode is titled "The Corpse's Bride" and tells the story of Michael Mastromarino.
Here's a quick synopsis of Michael Mastromarino's life achievements: After losing his licence to practice dentistry, because he was a drug addict who was stealing drugs from his own clinic, then shooting up in the bathroom, then performing procedures on unsuspecting patients, Mr. Mastromarino was forced to find a new source of income. So, he started his own biomedical company that delivered donated body parts to hospitals for surgeries and studies. The only problem was that Michael was stealing the bodies and illegally harvesting their organs and fraudulently selling off the booty. This guy was a real winner. And of course, is now serving a life sentence.
Why does this matter? Well, because in any documentary type show, you have to reenact the story. And who played the infamous body snatcher? That's right, Aurthur Kade. HOW F%@CKING PERFECT!
As the show started, I kept thinking, "I know that face, I know that guy… IT"S AUTHUR KADE… AHAHAHAHA!!!!" (That was my exact thought process, which took at least four minutes too long due to my intoxication).
Sometimes, society just gets it right.
Lates,
Sergeant Scrote Stain
————-
The Kadebag will undoubtedly love the attention (any attention) that no-talent hack can find. Still, it looks like that QVC Audition Tape finally paid off.