Monday, October 31, 2011
Ask DB1: Halloween = Autodouche?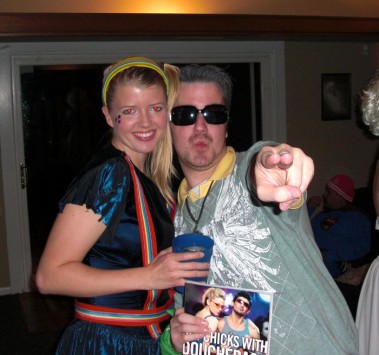 ——-
Dear DB1,
I'm writing you concerning adults and Halloween costumes. It is my contention that anyone over the age of twelve who wear such costumes are Douche. The women who practice this seem to be living out some prostitution-fetish, submission fantasy judging by their slutty outfits. (Which I find acceptable, even admirable.)
However, grown men who engage in this behavior are either Douchebags or are apparently working out deep-seated childhood insecurities based on latent homosexuality.
Also, do you advocate the use of stool softeners in cases of chronic constipation?
Your help in these matters would be greatly appreciated.
Sincerely Yours,
Backed-up in Bloomington
——-
In regards to your first query, BuiB, absolutely not. Adults dressing up for Halloween is not douchey on any level, provided the costumes are in the spirit of fun and festivity, and not an excuse to act douchey by other means (see Chaz Osborne's caveman costume in "Back To School"
).
Also, the chance to see boobie hottie suckle thighs dressed as nurses, kittens, and French maids is nothing to scoff at. Ever.
In regards to the second query, I might suggest a tablespoon full of linseed oil every morning before breakfast. Also, avoid eating too much bread and apples.