Saturday, October 22, 2011
Comment of the Week: Medusa Oblongata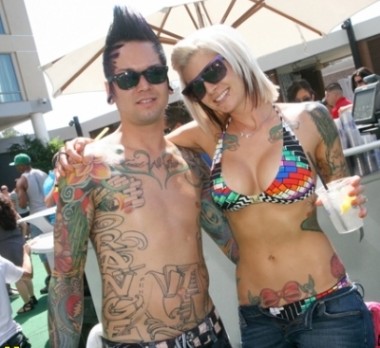 Hall of Mock enshrinee and noted 'bag huntress Medusa Oblongata weighs in on the tattooed Bleething of Barbie, with the following righteous rant, and wins the coveted Comment of the Week:
————
Tattoos are not for kids, and it sickens me that people are trying to make it this way. They're not for kids, they're for grownups, and this Barbie has the worst possible example of tattoos there is: The neck tattoo.
Not to mention, everyone who sees shit like this thinks the tattoos that are screen-printed on the neck of a smooth, plastic doll will look the same when carved onto the blubbery, pimply neck of a sunburned human being. Stop making my job hard, you sleaze merchants, and lest us take it back behind closed doors where the wee ones can't see. And her little pet there? Bastardino? Unless you're a total tool, you can make that one out. That's real Italian for "little bastard", Nice. I'm going to take Hermit's advice one step further.
I'm going to have Mr. B. give me a good fisting, and tear out my uterus. He'll toss it to our three-headed hellhound, Peanut Oblongata, who will surely gobble it up. No seed shall ever creep in there to bring forth life to which Madison Avenue can then market. And bullshit that doll won't be in toy stores, I've seen the Bob Mackie Barbies in with the pedestrian Barbies, Mattell is full of pink plastic shit.
—————-