Friday, October 7, 2011
Friday Haiku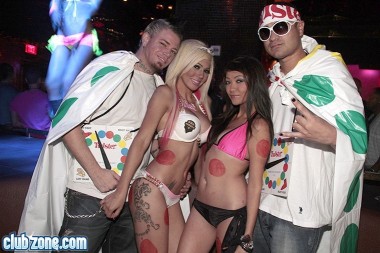 "Put a ring on it"
The girls told them; what they got
Were Jeff's ringworm sores.
Twister after an
Olean chip and Kool-Aid binge?
Bad idea, Girlfriends…
— DarkSock
Team Twister's up next
But had to change their name from
Team Sister Fister
— saulgoode42
"Dude, it will be sweet!"
"Twister? I barely know her."
"You misunderstand . . ."
— Douche Wayne
Rather than draped
in plastic, these guys should be
sealed tight in plastic
— idfma
Twister spots? No, kids.
I hate to break it to you
They're giant herpes.
— Medusa Oblongata
Blonde can do better
I know a game we can play
Her chute, my ladder.
— Mr. Scrotato Head
Bandana guy looks
Stunned. That isn't nail polish!
Hey you! Smell my finger.
— The Reverend Chad Kroeger
choose a coloured spot
make a provocative pick
push fist up brown spot
— creature
A Purple Nurple
Better known as Tit Twister
Would be best result
— Vin Douchal
Bleeths and douchebags preen
Twister twisted forever
Milton Bradley weeps.
— soy bomb
Twister™ gave me my first
erection; these twits ruined
a nice memory.
— The Dude
A porch beef sandwich
Made with fresh douchebag herp bread
Kills the appetite
— Doucheywallnuts
Mack and Stephano
Enter 2 Man Bronado;
STD D'jour
— Mandouchian Candidate