Friday, October 14, 2011
Friday Thoughts and Links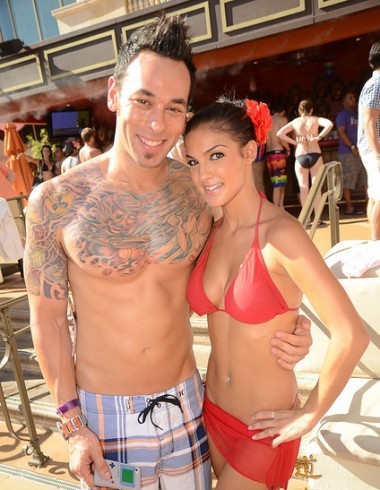 A gorgeous Los Angeles Friday as your humble narrator finishes drooling at Red Bikini Hott, rotely mocks Douchebag Ed Grimley, and them reposes with a tasty Mr. Pibb.
As I ruminate and marinate, I consider the genius that came up with Kettle Corn.
How to improve upon a snack food product without sugar? Add sugar. Of course.
I will soon be marketing "Kettle Celery." I'm also considering "Kettle Raisins" and "Kettle Nuts," or as some call them, "Sugar balls."
Yup.
I'm babbling like Brooke Burke in a burka in a brook.
Here's your links:
Your HCwDB Japanese Horror DVD Pick of the Week: "This wire can cut flesh and bones easily!"
A newspaper in England, The Daily Mail, picks up on the art of transnational douche mocking.
Toby Keith sings an ode to Ubiquitous Red Cup. HCwDB. It's like getting the pulse of the zeitgeist three years early.
Speaking of DVDs, best comedy show on TV right now: "This is the worst thing that's ever happened to me, and my dad hung himself in front of me, while masturbating."
F@#k the Yankees! "It's like going to a casino and cheering for the house" for the win.
Just in time for Halloween: Scared Bros at a Haunted House
Creepy, rich Europeans with too much time on their hands occasionally produce some pretty kick-ass things.
Somewhere. Out there. Fat baby.
Act like a douche in school? Here's what'll happen.
Matthew Broderick and Sarah Jessica Parker enjoy an intimate moment.
The 1970s actually existed in a garish and heinous parallel universe that we still can't comprehend.
Okay, so since you've been good this week, you've earned it:
Go ahead. Take a chomp. It's Friday.