Friday, October 21, 2011
Friday Thoughts and Links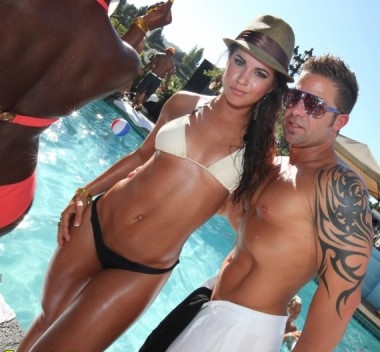 We have seen many oiled up Beach Hottness on this site over the years.
But ne'er have I more desired to be power crushed between two sexy suckle thighs of musculature female tilling the fields thigh power crunchitude around my windpipes.
Oh orgasmic woe!!
How soft and deft doth death's sweet touch be!
When Sophie's tense and strong, yet softly sweet, thighs envelop my esophageal area in a cataclysmic tidal wave of End Times Dogs and Cats Living Together Mass Hysteria suffocation.
Her suckle supple chew dog spankle showers Freudian Death Drive erotics/necrotics dialectics arrive via perfect pooch spackle.
And Bro Johnson sucks.
Here's your links:
Your HCwDB Classic Book Pick of the Week: "Sammy would walk up to a director and say, 'Spencer Tracy and Marlene Dietrich in Titanic. Do I have to say any more?'"
Yet more signs of the Bleething of American Hotties: Totally Stylin' Tattoos Barbie!
. Parents not amused. Tramp Stamp Included.
Foghorn Leghorn considers running for Congress.
Premature Pear to counter the fact that those Bros pics even exist in a harsh and cruel universe.
Ever get confused by bearded asswipes in Silverlake?: Try The Herpster Translator
Lost your I.D.? Try a taco.
What a strange world we live in when Steve Harvey's Family Feud is busting out raunchy comedy bits.
But you are not here for Family Feud clips. You are here for Pear. And even though Premature Pear already took place, here you go:
For the Sista Hott lovers among us. Go forth. Go forth and imbibe.