Friday, October 28, 2011
Friday Thoughts and Links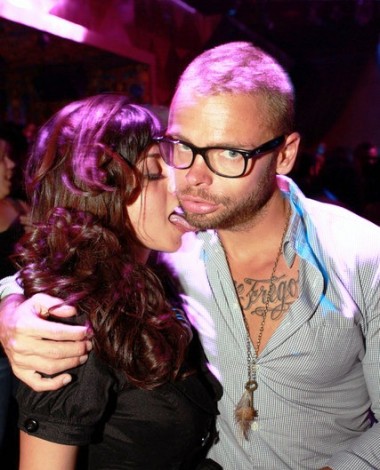 There are many components of the emerging mock in which hipster and douchebag have mated to produce herpster.
Not least among them are the douche-glasses.
Sort of the 10 Degree Hat Tilt of the Herpser set.
This may be the one of the worst mutations of the Greico Virus we've seen in 2011. And hottie lick makes this picture all the worse. Maybe this should be Monday's HCwDB of the Week?
Which reminds me.
Tomorrow we begin our official work prepping this place for the 2011 Douchie Awards (beginning December 5).
That means sweeping up the alpaca poo from the veranda and straightening up the azalias on the indoor lufa lounge.
Tomorrow, the first official announcement goes up, so if you wanna contribute, claim a category and hand out an award.
In the meantime, your humble narrator is once again in New York trying to detox from the poison that is Los Angeles. The cure: A slice of East Village Brooklyn Pizza, sushi at Tomoe, breakfast at the Popover, and, of course, sooner or later, late night Bistro Burger.
Cuz that's how I roll NYC style.
Here's your links:
Your HCwDB Book The DB1 is Currently Reading Pick of the Week: "They were insane with bravery and fools for battle, but like men from one end of the world to the other, they were slaves to their appetitues and to their love of treasure, and with their decks piled high with gold, fresh meat and casks of Georgian wine, the Northmen must as a matter of the highest principle choose profitable retreat over the doubtful glories of combat."
I never did hear the end of the joke John Bender tells before falling through the roof. What happened to the naked blonde with the poodle and the salami? There must be an answer.
Forensic science colleges
may be perfect for those who want to know the full story. (Resource Link)
Just when you thought there was nothing else they could douche up with garish and vile design atrocity, here's Ed Hardy Luggage.
Ubiquitous Red Cup continues to gain social stature as an icon of Americana. No mention that it's also an icon of douchey party photographs. But that's why I'm here.
There are few athletes in history I have loathed as much as sanctimonious blowhard Tim Tebow. Having blue eyes and endlessly talking about Jesus is enough to see society celebrate an obviously inferior talent in a Nietzchean ubermench style longing for early 20th Century genetic hierarchies, apparently. No ethnic quarterback would ever be given the chance that clown is being given.
The increasingly great Cracked.com offers an overview of Six Classic Songs That Were Supposed to be Jokes. What, no mention of Mahler's Fifth?
Can a guy be heterosexual and still enjoy pictures of baby meerkats? I say yes.
But you are not just here for cute llama pics. You are here for Pear.
And the world is in harmonic butt globule balance once again.