Monday, October 31, 2011
HCwDB of the Week: Frego The Herplicker and Irene the Tongue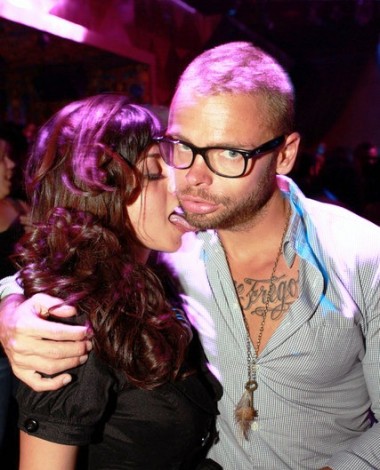 At first I was gonna give it to either Mr. Wingtatt and Asian Melony or Onychomycosis, both featuring tremendous A-List Hottness as part of "Boobs Week."
And Boobs Week was indeed glorious.
Even via iPhone Douche Bathroom Self-Portrait.
But this pic of creepy Herpsterism and sexy tongue stayed with me like a taint rash made of festering itchy boil all through my glorious NYC weekend.
And we must always find dialectic between sexy hottness and douchey rankness in interrelated entangled cohabit.
And that be this.
Chalk up Frego The Herpster and Irene The Tongue for the final Monthly of 2011.
And props to 'Bag Huntress Extraordinaire Medusa Oblongata for mocking up our official 2011 Douchie Award Trophy. And by mocking, I mean breakfast cereal.