Monday, October 10, 2011
HCwDB of the Week: The Herpster and Librarian Laura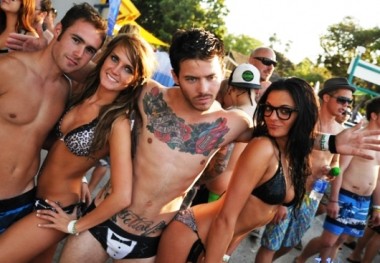 In an absolutely tough week to pick our winning (losing) coupling of hottie/douchey shoescrape, in the end, I had to go with the innovative and historically significant greasepumpery with luscious gigglehottery rubbing up on his stupidness.
For the Herpster has Tuxedo Crotch. Factor in stupid garish disgrace of a chest tatt and ironic bearded gaze, and the power of the mock is overwhelming in its needed response.
Librarian Laura may have a touch of the Herpster ironobaggery herself. But that booty be slammin', as the kids say. And for that, we have a winner (loser).
Last week was so chock full of choice hott/douche, the winner could've easily gone to Bad Tatts Maru and New Wave Naomi or the early favorite, the Moocow Brothers and Amanda and Tonya, followed by Marty Moocow teaching Amanda to Flex
Damn, last week had a lot of inchoate douchepeak.
There was also The Artful Doucher and the Pillowfight Triplets, or the tasty if inflated bleeth gnaw of Woo Girl Kim.
Heck, Scrotudinous could've won last week's contest, and this HCwDB slag is a mere fourth or fifth.
Tough week to pick a winner.
But for inspiring a whole new subcategory of douchal innovation, the Herpster and Laura make it the monthly. While Good Guy Ron, on the left, gets a nottadouche and a way to go for snagging Modern Dancer Marie.
Chalk 'em for next week's Monthly. And your humble narrator for Corn Pops.