Saturday, October 29, 2011
The 2011 Douchie Awards Begin December 5th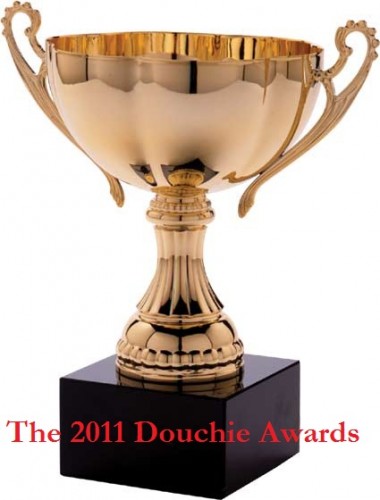 Prepare.
That is right.
Prepare.
For the 2011 Douchie Awards, an orgy of excess in exegetic organics will take place.
Your role, should you accept it. Vote on the HCwDB of the Year. Vote in other select categories. Enjoy the awards I hand out arbitrarily because I'm too lazy to hold a bunch of votes.
If you're a regular, now's your time to participate. Pick one of the categories and you can decide who wins the award, and who the runners up are. Just call it in the comments thread which 2011 Douchie Award you'd like to give out, then go through the past year and find the winner. Then email me your winner with your writeup (2-3 paragraphs) on why the award was given plus the top 3-5 runners up, so I can include them. All awards need to be in by December 1st.
Also, anyone got photoshop and is good with the graphics? My trophies routinely suck, so if anyone wants to take a shot at making the official 2011 Douchie Award, bring your designation skills to bear. Trophy should read "2011 Douchie Award" on the base of the trophy, like past years. Then the top part has a supreme hottie/douchey couple embronzed upon it (your choice of which couple, but not The Gator, Donkey Douche, Joey Porsche, or Pat, as they're from previous years). Ideally,you'd use this image.
You may now commence with mocking me for relying on others to do work that I myself am capable of doing, but am far too drunk and lazy to actually do.
Here's your 2011 Douchie Award categories:
Most Expensive First Date Hott
Douchiest Hair
Douchiest 'Athlete'
Clearest Proof of Natural Selection
Douchiest Douche-Face
Douchiest 'Bag Trend
Douchiest Hand Gesture
Douchiest Facial Fung
Hottest Librarian Hott
The Ricky
The John Largeman (Et Tu Douche? has already claimed this one)
Douchiest 'Bag Who May Be a Lesbian In Drag
Greasiest Grease Stain
Douchiest Lips
Hottest Girl Next Door Hott
Most Trashcan to the Head Worthy
Douchiest Creature From Ancient Greek Myth
The Douchebaguette
Most Euro Eurobags
Smells Like Poo
Most Innovative 'Bag Maneuver
Douchiest HCwDB Movie
'Celebrity' HCwDB Couple of the Year
The Yellowtail
Greatest Crisis of Modernity
Most Annoying 'Bagling
Voting categories, or solo awards I'm giving out, in which I welcome suggestions/recommendations via the comments thread:
Hottest Hott of the Yea
Best Pear of the Year
Jerziest Jerz
Douchiest Tattoo
Orangest Orange
Best Golden Globes
Most Likely to be the Future Ex-Mrs. DB1
Most Likely to be a Part of the HCwDB Show at the Guggenheim Museum in 2023
The Irving Thallbag Lifetime Achievement Award
Also we'll induct our 2011 Closet of Mock class. And good times will be had.
There will be mock.
Oh yes.
Ther will be mock.